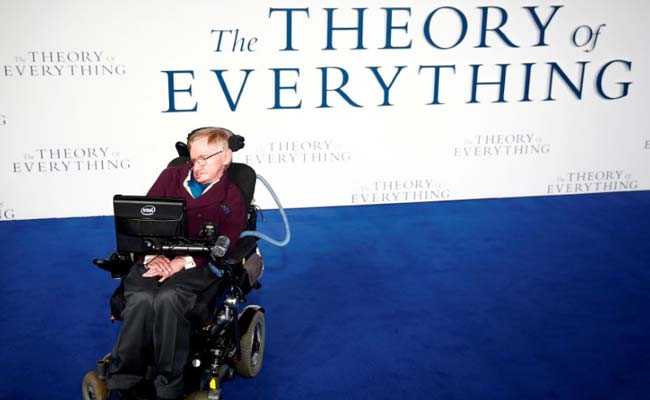 New Delhi:
Stephen Hawking, the British physicist and black-hole theorist, died at his home in Cambridge in England in the early hours of Wednesday morning. He was 76. Professor Hawking was famous for his theoretical prediction that black holes emit radiation, which is referred to as Hawking radiation. He suffered from amyotrophic lateral sclerosis (ALS), also known as Lou Gehrig's disease, and was confined to an electric wheelchair for much of his adult life. Diagnosed at age 21, he was one of the world's longest survivors of ALS. He has also been a motivational speaker and author of several books.
Here's a look at Stephen Hawking's famous literary works:
A Brief History of Time reviews the great theories of the cosmos from Newton to Einstein and delves into the secrets which still lie at the heart of space and time, from the Big Bang to black holes, via spiral galaxies and strong theory. The book was on the British Sunday Times best-seller list for a 237 weeks.
Black Holes and Baby Universes: This is Stephen Hawking's first collection of essays and other pieces - on subjects that range from warmly personal to the wholly scientific.
The Universe in a Nutshell takes the reader into a dizzying new world of M-theory and branes and pushes the frontiers of popular physics beyond relativity and quantum theory.
The Grand Design is the book with the most recent scientific thinking about the mysteries of the universe.
My Brief History: The book recounts Stephen Hawking's improbable journey, from his post-war London boyhood to his years of international acclaim and celebrity.
Apart from this, Stephen Hawking has also written On the Shoulders of Giants, God created the Integers, The Large Scale Structure of Spacetime, with G F R Ellis, General Relativity: An Einstein Centenary Survey, with W Israel, and 300 Years of Gravitation, with W Israel. In the George series, Stephen Hawking and his daughter Lucy Hawking wrote George and the Blue Moon, George and the Unbreakable Code, George and the Big Bang, George's Cosmic Treasure Hunt and George's Secret Key to the Universe. In his autobiography, Professor Hawking wrote, "You were supposed to be either brilliant without effort, or accept your limitations".