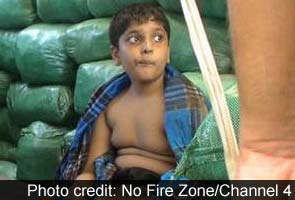 Colombo:
The Sri Lankan government has described as "diabolical" the allegation, made by UK's Channel 4, that the country's armed forces executed the 12-year-old child of LTTE leader V Prabhakaran in May 2009 soon after they photographed him eating a snack in military custody. Channel 4 alleges that the child was shot dead at close range and then photographed again.
(Read editorial in The Independent by Channel
4 documentary director
)
The photos of his dead body, riddled with bullets, were released in a documentary last year by
Channel 4
. The new photos are part of a new documentary, titled "No War Zone: The Killing Fields of Sri Lanka," to be screened next month in Geneva where the United Nation's Human Rights Council will meet.
Speaking to NDTV, the Sri Lankan High Commissioner in Delhi said "Sri Lankan forces never targeted civilians." He said the new photos are designed to embarrass Sri Lankan ahead of the session of the UN's top human rights body.
In an editorial in The Hindu, Callum Macrae, the director of the Channel 4 documentary writes, "The new photographs are particularly important evidentially, because they prove that Balachandran was not killed in crossfire, or in a battle. His death was deliberate and calculated. The pictures fill in chilling details on the circumstances of his murder - and leave the Sri Lankan government with yet more questions to answer about just how systematic the executions at the end of the war appear to have been."
(Read the editorial in The Hindu here)

At last year's session of the UN's top human rights body in Geneva, a resolution was adopted urging Sri Lanka to assign accountability for alleged war crimes by its army in the final phase of the country's civil war against Tamil rebels or the LTTE.
The resolution was backed by India, under stringent pressure from the DMK, which is a senior member of the Prime Minister's coalition.
Today, Mr Karunanidhi's party urged India to vote once again against Sri Lanka at the UNHCR session, where the US plans to move a new resolution against the island for alleged war atrocities. Reacting to the new photos of the LTTE chief's son, DMK Spokesperson Ilangovan said, " This is yet more proof that President Rajapaksa is a war criminal."