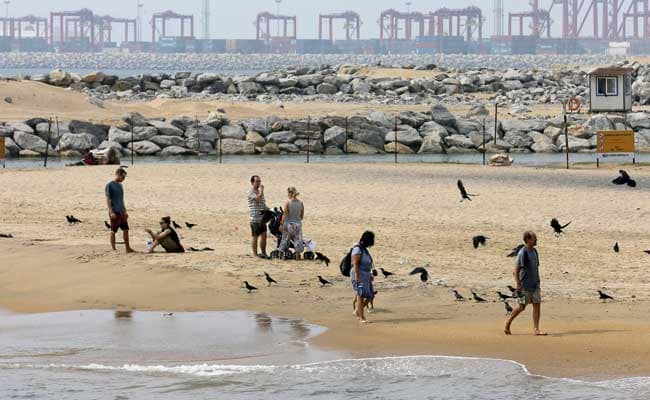 Shanghai/Colombo:
Sri Lanka has granted approval for a $1.4 billion Chinese-backed real estate project in Colombo to resume construction, ending a year-long delay, Chinese state news agency Xinhua reported on Thursday.
President Maithripala Sirisena's government suspended the project, which includes apartments, shopping malls, a water sports area, a golf course, hotels and marinas next to Colombo's main port, in March last year citing various irregularities including a lack of proper permits and approvals.
Sri Lanka's international trade minister, Malik Samarawickrama, was quoted by Xinhua as saying the cabinet had granted approval for the project, which is funded by China Communication Construction Company (CCCC) and locally handled by CHEC Port City Colombo (Pvt) Ltd.
"They can go ahead and start work as all our matters pertaining to the project have been resolved. Next week we will officially inform the Chinese company," he said.
A cabinet paper submitted by Prime Minister Ranil Wickremesinghe said the agreement between CCCC and Sri Lanka had been extended for six months, although there issues still to be resolved. The agreement had been due to expire on March 15.
The paper said a committee was still discussing whether the allocation of the marketable land to the Chinese investor was on a 99-year lease or a mixture of freehold and lease.
It is also discussing the total extent of reclaimed land, which was estimated at 269 hectares, including 108 hectares for the Chinese investor. Samarawickrama had told Reuters the government wanted to reduce the land area allocated for the government to reduce impact on the environment.
The issue of claims for compensation arising from the suspension of the project also needs to be resolved on a government-to-government basis, it said.
CCCC had estimated when the project was suspended in March that the shutdown would result in losses of more than $380,000 a day.
CCCC said throughout the suspension, it "proactively worked with the local government to appropriately resolve the relevant issues, made preparations for the project's resumptions, and adhered to requests in order to push forward with the project".
© Thomson Reuters 2016