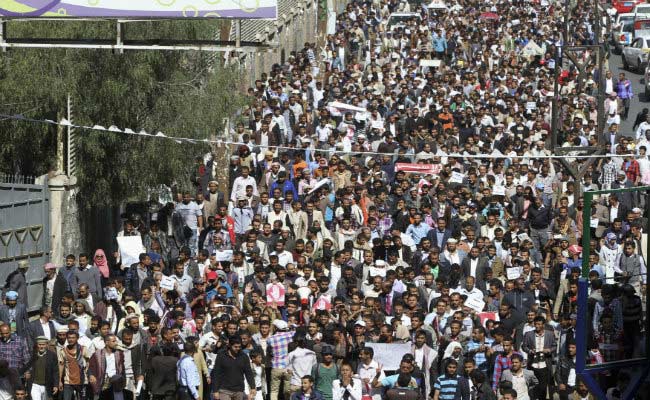 Sanaa, Yemen:
Gunmen from the Shiite Huthi militia fired live rounds today to disperse thousands of protesters in central Yemen, wounding at least six people, witnesses said.
In the capital Sanaa, meanwhile, the family of a demonstrator detained by the Huthis on Wednesday at a protest against their takeover said he had died from torture wounds suffered in captivity.
The militia led by Abdulmalik al-Huthi dissolved Yemen's government and parliament on February 6 after seizing the presidential palace and key government buildings.
"Huthi, Iran: Yemen is not Lebanon!" protesters in the city of Ibb, which the militia have held since last year, chanted in reference to the militia's alleged support from Shiite-dominated Iran.
They also shouted slogans against Russia, which is thought to be reluctant to take a hard line against the Huthis at the United Nations Security Council.
Witnesses said the Huthis fired warning shots to disperse the protest in Ibb, leaving at least six people wounded.
A similar demonstration took place in the capital, although it was reportedly free of any violence.
But the families of three protesters detained by the Huthis in Sanaa this week said on Saturday that one had died of torture wounds and that the other two had been hospitalised.
"Saleh Awadh al-Bashiri died at midnight, hours after he was released by the Huthi militia with two of his companions who were kidnapped by the group during Wednesday's protest," one of his relatives told AFP, requesting anonymity.
The families posted pictures on social media that they said were of their sons showing parts of their bodies bruised and swollen from alleged beatings.
The Huthis on Sunday announced a ban on all demonstrations against them unless they are authorised by the interior ministry, which itself is now under the militia's control.
The militiamen have since been accused of attacking and detaining protesters as well as reporters covering demonstrations against their seizure of power.
The insecurity this week prompted several Arab and Western countries to suspend operations at their embassies in Sanaa and evacuate their staff.
UN Secretary-General Ban Ki-moon has warned Yemen is "collapsing before our eyes" and called for Western-backed President Abedrabbo Mansour Hadi, who resigned last month, to be restored to power.