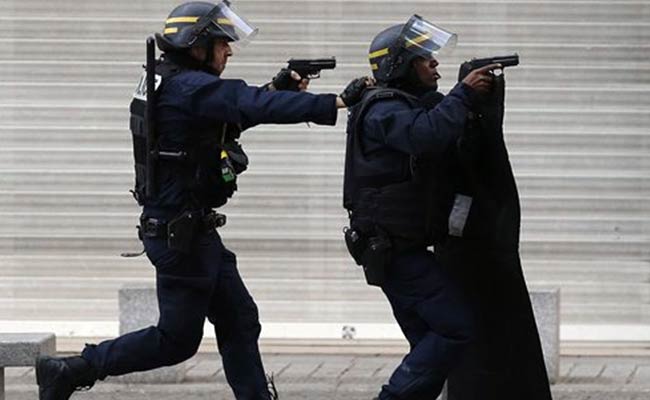 SAINT DENIS, France:
A seven-hour police and army operation to storm a suburban Paris apartment where Abdelhamid Abaaoud, the suspected mastermind of last week's terror attacks in the French capital was believed to be holed up, has now ended.
A woman wearing an explosive suicide vest blew herself up
and one or two other terrorists have died. Seven people were arrested in the standoff, which began before dawn. The official said scores of police stormed the building and were met with unexpectedly violent resistance.
"We are at war against terrorism. Terrorism which declared war against us... I would like to express our gratitude for the forces, policemen, the people who launched this operation," said French President Francois Hollande while addressing a press conference.
A senior police official had earlier said he believed
Abdelhamid Abaaoud
, a Belgian ISIS terrorist, was inside the apartment in the Paris suburb of Saint-Denis, with five other heavily armed people. As the operation ended, it was not immediately clear where Abaaoud was.
Abaaoud, 27, was previously thought to be in Syria after fleeing raids in Belgium earlier this year.
Soldiers flooded into the area and heavily armed police were seen deploying
along a street full of shops in the center of the district, while ambulances and fire engines filled the streets. (
Pics
)
Some residents were evacuated, some still in their underwear, and authorities warned residents to keep away from windows.
The raid came as Europe was placed on high alert after footage from the scene of one of
Friday's attacks in Paris, which killed 129 and injured 350
, revealed a ninth suspect may have taken part.
It was not clear if the ninth man was one of two suspected accomplices detained in Belgium or was on the run, potentially with 26-year-old fugitive Frenchman Salah Abdeslam who took part in the attacks with his suicide-bomber brother Brahim.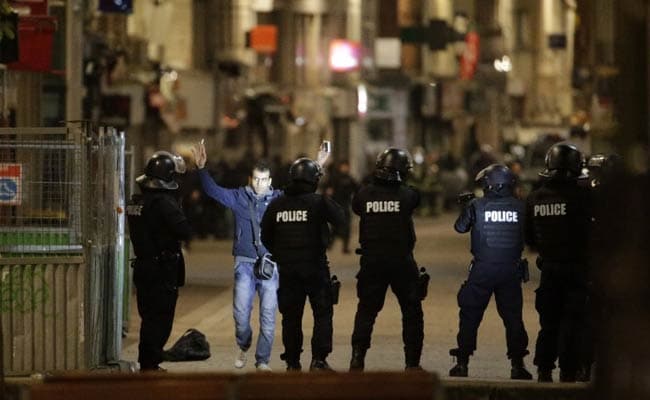 Police also carried out multiple raids in southwestern France, in Ariege, Toulouse and the department of the Haute-Garonne.
The operations were part of an anti-terrorism strategy but not directly linked to the Paris attacks, an investigator told AFP.
French President Francois Hollande will hold discussions on Wednesday on extending to three months the state of emergency declared after the worst attacks in French history. Lawmakers will vote on the proposal on Thursday and Friday.
In a sign of the nervousness gripping Europe after Friday's carnage, a football match between Germany and the Netherlands in Hanover was cancelled on Tuesday and the crowd evacuated after police acted on a "serious" bomb threat.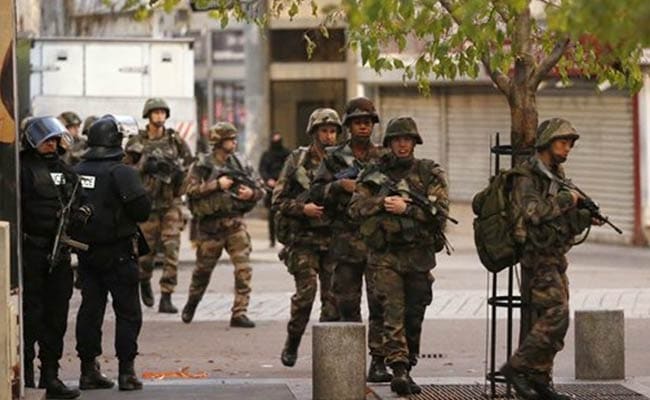 As police stepped up the hunt for the fugitives, French and Russian jets pounded IS targets in the group's Syrian stronghold of Raqqa for a third consecutive day.
France and Russia have vowed merciless retaliation for the Paris attacks and last month's bombing of a Russian airliner over the Egyptian Sinai peninsula which killed 229 people and was also claimed by the ISIS.
"It's necessary to establish direct contact with the French and work with them as allies," Russian President Vladimir Putin said as France announced it was sending its Charles de Gaulle aircraft carrier to the eastern Mediterranean on Wednesday.
The attacks have galvanised international resolve to destroy the jihadist group and end Syria's more than four-year civil war, while potentially restoring ties between Russia and France that had collapsed since last year's Ukraine crisis.
Moscow finally confirmed on Tuesday that the passenger
jet that crashed over the Sinai Peninsula was brought down by a bomb
, though it did not name any responsible group.
Hollande will meet Putin in Moscow on November 26, two days after seeing US President Barack Obama in Washington.
France has invoked a previously unused European Union article to ask member states for help in its mission to fight back against the Islamic State terrorist organisation, which received unanimous backing from Brussels.
The alliance comes as international players meet to discuss ways of ending the Syrian war, which has spurred the rise of the Islamic State group, forced millions into exile and triggered Europe's worst migrant crisis since World War II.
On a solidarity visit to Paris, US Secretary of State John Kerry said a "big transition" in Syria was probably only weeks away after Iran, Russia and Saudi Arabia reached agreement at the weekend on a path towards elections.
Highlighting US fears over the attack,
two Air France flights bound for Paris from the United States were diverted
Tuesday and landed safely after anonymous threats that the carrier described as a "bomb scare".