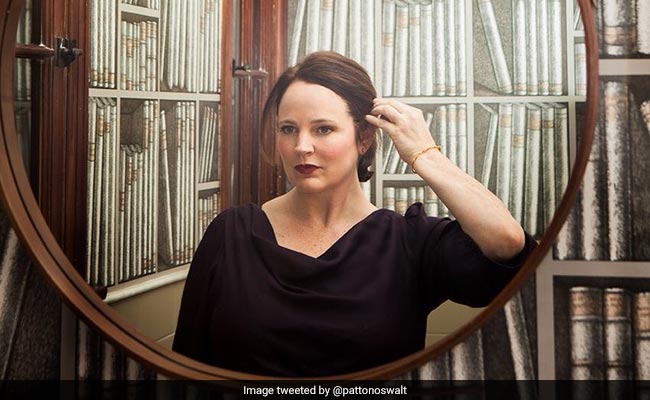 She knew his blood type, his build, his habits and the way he breathed. She knew his twisted proclivities, embarrassing faults of his anatomy and exacting details about dozens of rapes and 12 murders that police believe he committed. And after tracking him and the gruesome trail of crimes he had left throughout California, for years, she even seemed to know how it would all end.
But Michelle McNamara never lived to see the day that a suspect was arrested.
The true crime writer, who died in 2016, looms large over a case that has captivated the country with the news that former police officer Joseph James DeAngelo, 72, has been arrested and charged with two counts of murder in a case that had long gone unsolved.
McNamara is the author of a book about the horrific cold case, "I'll Be Gone In the Dark," which was published posthumously this year with help from her husband, comedian Patton Oswalt. The book, the result of years of painstaking research by McNamara, helped bring the case a national prominence it didn't have before. She even coined the killer's catchy nickname, disregarding the monikers bestowed on the suspect by police in the many jurisdictions where he struck in favor of a title that sewed the state's geography together: the Golden State Killer.
But officials have played down the suggestion that McNamara's book played a role in the suspect's apprehension.
"That's a question we've gotten from all over the world in the last 24 hours, and the answer is no," Sacramento County Sheriff Scott Jones told reporters.
Authorities did acknowledge that the work built public interest in the case, which can have the effect of lending an old investigation more urgency and, potentially, more resources.
"It kept interest and tips coming in," Jones said, but "other than that there was no information extracted from that book that directly led to the apprehension."
Many of McNamara's family, friends and fans said they believed she deserved more credit for the arrest in the case.
"It was pretty amazing," Sarah Stanard, a longtime friend of McNamara's, told The Washington Post. "I'm going to try not to be angry, but they're taking all the credit."
Oswalt, who spent the day doing interviews and tweeting ecstatically about the news of DeAngelo's arrest, said that McNamara "didn't care about getting any shine."
"She cared about the Golden State Killer being behind bars and the victims getting some relief," he wrote on Twitter.
Still, he said that he believed the police would be disinclined to credit writers and journalists who helped them with the case.
"But every time they said Golden State Killer, they credited" her work, he said.
McNamara's long fascination with true-crime stories sprouted from an unsolved murder near her family's home in Oak Park, Illinois, when she was 14. After moving to Los Angeles later, she worked briefly for a private detective, before going on to write for television, Stanard said. But she returned to focus on her fascination with true crime, starting a blog in 2006 to examine unsolved cases.
"She was just a dogged person," Stanard said. "She had a different brain."
One of the cases she examined was the unknown assailant known variously as the East Area Rapist, for early crimes committed in Sacramento; the Original Night Stalker, after police learned that his crimes predated that of serial killer Richard Ramirez; and the Visalia Ransacker.
The killer left a lurid trail of crime scenes and victims across the large state: horrifying home invasions, women raped in front of their bound loved ones and a series of couples killed in their homes together. His meticulousness helped him elude capture for decades.
"To zero in on a victim he often entered the home beforehand when no one was there, learning the layout, studying family pictures, and memorizing names," McNamara wrote. "Victims received hang-up or disturbing phone calls before and after they were attacked. He disabled porch lights and unlocked windows. He emptied bullets from guns. He hid shoelaces or rope under cushions to use as ligatures. These maneuvers gave him a crucial advantage because when you woke from a deep sleep to the blinding flashlight and ski-masked presence, he was always a stranger to you, but you were not to him."
For her, the case had become a fixation. She joined with other amateur sleuths in online message boards, met with survivors of the killer's victims, pored over decades-old files, autopsy reports, maps and mug shots.
"I'm obsessed," she wrote on her blog in 2011. "It's not healthy."
She wrote a long narrative about the case and her obsession with it for Los Angeles Magazine in 2013, which led to a book deal with HarperCollins.
"And, you know, in writing the book, she began to recruit retired homicide detectives and cops from all these different jurisdictions and precincts and cities. And she got them to pool information," Oswalt said last year during an interview on NPR's "Fresh Air." "But her research was so meticulous and so complete that they would contact each other and say, talk to Michelle. She knows. This person is actually not some weird, you know, overenthusiastic amateur. She wants to put the bracelets on this guy."
But the work began to take a toll. McNamara, who would often work at night after her daughter and husband went to bed, began to develop anxiety and sleep issues, Oswalt said. He has spoken about the panic the case created for her, including one time she mistook him for an intruder in the middle of the night and swung a lamp at his head.
"I think that is what led her down this road of using Xanax. And I know she was taking Adderall in the mornings to get up and some - you know, before she died, the three days before she died, she really didn't sleep because there was all this new breaking stuff on the case," Oswalt said. "I'm not going to be glib and say that's the cause of death. The cause of death was a lot of things. But that certainly held the door open for the other causes."
She died in her sleep from what NPR host Terry Gross said was an undiagnosed heart problem along with Xanax, Adderall and fentanyl in her system on April 21, 2016. She was 46.
Oswalt helped steward the book's completion, with the help of a journalist, Billy Jensen, and a researcher, Paul Haynes. The bestseller has been hailed by critics, writers such as Stephen King and Gillian Flynn and readers.
Stephen King tweeted "It appears police have caught the Golden State Killer. Go get Michelle McNamara's excellent book about the case, I'LL BE GONE IN THE DARK."
Family and friends said they had just done a reading at a Chicago-area bookstore around the time they believe DeAngelo was arrested.
"I think you got him, Michelle," Oswalt said in a video he posted to social media.
Patton Oswalt tweeted "Goodnight, Michelle. You did good. You aimed a light and helped the hunters catch a monster."
"On the night when all of Michelle's collaborators were together for the first time, in Michelle's hometown, with Michelle's family present, the monster we sought is simultaneously taken into custody," Haynes, the book researcher, wrote. "I'm a rational man, but I can't help but feel this transcends coincidence."
Many shared a particularly prescient passage from the book that envisioned the suspect's arrest in the future.
"One day soon, you'll hear a car pull up to your curb, an engine cut out. You'll hear footsteps coming up your front walk," McNamara wrote. "The doorbell rings. No side gates are left open. You're long past leaping over a fence. Take one of your hyper, gulping breaths. Clench your teeth. Inch timidly toward the insistent bell. This is how it ends for you."
(This story has not been edited by NDTV staff and is auto-generated from a syndicated feed.)