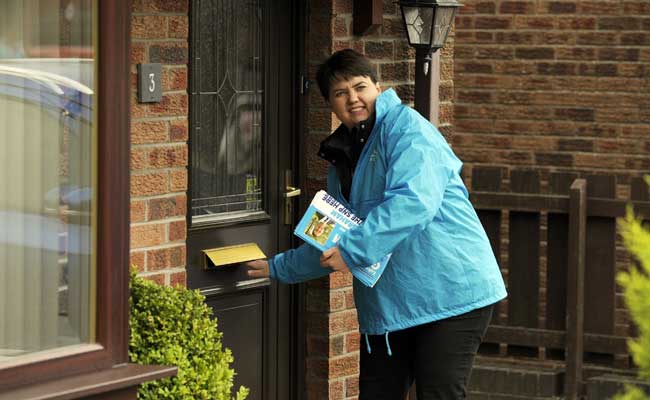 Perthshire:
There is a running joke in Scotland that it has more pandas than Conservative members of parliament.
The centre-right unionist party has been an endangered species in Scotland for two decades -- it has one MP compared to two pandas at the Edinburgh zoo -- but that could change on June 8.
Ebullient Scottish Conservative leader Ruth Davidson has turned a party once consigned to the scrapheap into a fighting force in next week's British general election, ready to upset the dominant Scottish National Party's plans for independence.
"There's so much more to Scotland than just the SNP," Davidson told AFP during a campaign stop in the Perthshire hills this week in which she drove and posed on top of a Land Rover Defender off-road SUV.
Davidson's jovial media persona -- never shy of mounting a tank or a buffalo or appearing on comedy programmes -- has made her one of the most charismatic figures in an otherwise dour campaign.
Some opinion polls suggest the Conservatives could make major gains, winning up to 12 seats in Scotland.
And if the Conservatives win handily on a national level, experts say it could bolster Prime Minister Theresa May's arguments against holding an independence referendum.
Scotland rejected independence by 55 percent in 2014 but the SNP went from strength to strength the following year.
It won all but three of the 59 Scottish seats in the British parliament and swiftly laid plans for a second independence referendum.
The Conservatives, Labour and Liberal Democrats helped hold Britain together in the 2014 referendum campaign but quickly returned to their traditional squabbling and won just one Scottish seat each.
Labour, which reigned over Scotland for decades before the SNP's ascent, fell into disarray under Jeremy Corbyn's divisive leadership -- leaving the Conservatives to pick up most of the unionist support.
Breaking ground
Davidson, 38, is one of three female leaders in the Scottish Parliament, alongside SNP First Minister Nicola Sturgeon and Scottish Labour leader Kezia Dugdale.
"When I was growing up the two most important people in the country were the Queen and Margaret Thatcher, so I thought women could do anything," Davidson said.
"The first political memory was probably Margaret Thatcher resigning.
"My best mate's mum said when she explained to us that she had been replaced by John Major, I asked her if it was possible for a man to be prime minister."
She is engaged to her Irish partner Jen Wilson and is an outspoken advocate for gay rights.
"The wedding has been slightly postponed, but we'll get to it eventually," she said.
Last summer she was invited to Northern Ireland, a part of Britain which does not allow gay marriage, to give the annual pride lecture for Amnesty Internation.
"I was probably the only unionist protestant who was marrying an Irish catholic that they could find to advocate gay marriage," she said.
"I would dearly love to see equal marriage in Northern Ireland. The arguments that are being used against it now are exactly the same arguments that were used in Scotland and Ireland, but the sky hasn't fallen in."
'We could win again'
Davidson cast her first vote as a teenager in 1997 -- the year Tony Blair's New Labour ended 18 years of Conservative British rule.
"I watched every single Conservative seat in Scotland fall, so I've waited a really long time for a comeback," she said.
"If this proves to be that time then it will have been a really hard road back."
Davidson was elected the party's Scotland leader in 2011.
She cemented her position in 2016 by leading the Conservatives to second place in the Scottish Parliament election, winning a quarter of the 129 seats in the Edinburgh-based legislature.
"I always said we could win again as the Conservatives -- and that is exactly what we have done," she said.
(Except for the headline, this story has not been edited by NDTV staff and is published from a syndicated feed.)