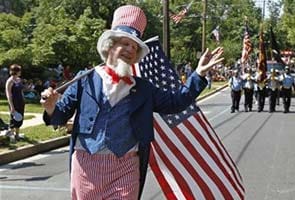 Washington:
Millions of Americans headed for parades and fireworks shows on Wednesday to mark a sweltering Fourth of July holiday, some even celebrating as the nation's founders did - without electricity.
Storm-ravaged states from Indiana to Virginia carried on Independence Day celebrations on Day 5 of a power outage caused by deadly winds ripping through the region. More than 1 million homes and businesses remained affected and thousands of utility workers stayed on the job in a scramble to restore electricity.
"We still have a tree on the garage. It's been one of those weeks," said Gary Belniak, 57, of Wheaton, Illinois, who has been without power since Sunday when another destructive storm struck, forcing his town to cancel its parade and fireworks display.
Exhausted by three sleepless nights in a house where temperatures hover at about 90 Fahrenheit (32.2 Celsius), Belniak said he had all but given up on the holiday.
"I decided to come to work today. That's basically my Fourth of July. I'm so irritated," he said.
In hard-hit West Virginia, Karen Allen said she planned to spend the holiday - her sixth day without power - hunting for ice.
"I'm going to go look for ice, cold gold is what it is. It's very scarce," said Allen, 43, of Charleston, West Virginia.
Sizzling heat gripped much of the nation, with the National Weather Service reporting temperatures from 90 F to more than 100 F (37.7 C)from the Midwest to the Atlantic Coast.
Even sweltering temperatures couldn't wilt the patriotic spirit that drew crowds to hometown parades of marching bands, shiny fire trucks and children riding red, white and blue bedecked bicycles.
"America to me is small towns, kids, lollipops thrown from fire engines, balloons, dogs in the parade and hot dogs," said E.B. Kelly, 73, as she watched the 10-minute long procession in tiny Jenkintown, Pennsylvania.
In Washington, President Barack Obama swore in a group of new citizens in a naturalization ceremony at the White House. He welcomed two dozen foreign-born U.S. military personnel who were taking advantage of a programme that offers them citizenship in return for their service.
"What a perfect way to celebrate America's birthday - the world's oldest democracy - with some of our newest citizens," he told the members, who came from countries including Mexico, Ghana, the Philippines, Bolivia, Guatemala and Russia.
In the U.S. West, extreme warmth coupled with dry conditions snuffed out annual fireworks displays in scores of towns and cities, which are reeling from deadly wildfires that charred hundreds of homes and displaced tens of thousands of people.
On the East Coast, tragedy struck when a cache of fireworks apparently accidentally exploded on the back porch of a house in Pelham, New Hampshire, on Tuesday night, injuring more than 11 people, including two young children whose wounds were life threatening, fire and police officials said.
Bald Eagles
Elsewhere in the country, the traditional Fourth of July razzle dazzle fell victim to a tepid economy with communities either scaling back fireworks shows or cancelling them altogether.
But it was the very symbol of American independence - the bald eagle - that halted the show in the small New York hamlet of Narrowsburg on the Pennsylvania border. The local fire department cancelled its fireworks display after being warned by the U.S. Fish and Wildlife Service that it could face enormous fines and even prison if any nearby bald eagles were harmed.
"We decided we're not going to take the gamble," said Fire Chief George Strumpfler, cancelling the show that began more than 100 years ago. "It doesn't look like it's ever going to happen again."
Bald eagles, the national bird of the United States, were nearly extinct before the government banned the pesticide DDT in 1972 and later brought the bird under federal protections.
One of the biggest U.S. fireworks parties, held on Washington's National Mall, will go ahead as planned on Wednesday, where people were dressed for the heat with hats, umbrellas and fans. As they waited, they took advantage of shade trees and free filtered water stations.
"It's a little unbearable, but we do have the shade. We have water. Just try not to think about it," visitor Ella Van Nort of Hyattsville, Maryland, said with a slight giggle.
The heat was only slightly blunted by a gentle breeze as people looked at the AIDS Memorial quilt and the Smithsonian Folklife Festival ahead of the fireworks.
"When it's hotter, not as many people come out, and we've certainly had a lot of hot weather this year," said Folklife Festival spokeswoman Becky Haberacker, who said about 220,000 people attended the festival on July 4 last year.
With the sun on its descent behind a thicket of clouds, visitors lay on blankets, near their pitched flags and coolers filled with icy beverages, as they waited for the sky to light up with a kaleidoscope of colors from the fireworks.
Hours before all eyes turn to the sky for fireworks, many were focused on Joey "Jaws" Chestnut as he captured his sixth straight win at the annual Nathan's Famous hot dog eating contest on the boardwalk at New York's Coney Island.
Chestnut, 28, of San Jose, California, the No. 1-ranked eater in the world, scarfed down 68 hot dogs and buns in 10 minutes, enough to win $10,000 and the champion's Mustard Yellow International Belt and to tie his own world record set in 2009.
Sonia "The Black Widow" Thomas of Alexandria, Virginia, won the women's title, downing 45 hot dogs and buns to eclipse her own world record of 41 hot dogs and buns.
© Thomson Reuters 2012