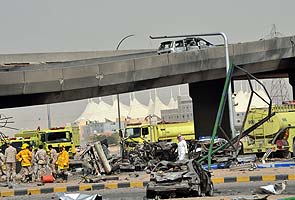 Riyadh:
A gas tanker truck exploded on a main road in the Saudi capital on Thursday, killing at least 22 people, injuring about 111 others and leaving a trail of destruction, officials said.
The lorry veered into a bridge pylon at a junction on Khurays Road in Riyadh at about 7:30 am, causing a gas leak that spread out and then burst into flames, destroying nearby cars and a business, the officials said.
An AFP photographer at the scene reported widespread damage to the area, with dozens of cars mangled by the blast and burned out.
A bus that had been gutted by the fire stood idle on the flyover, with witnesses saying that the vehicle had been transporting workers whose fate remained unknown.
Another truck fell off the bridge due to the impact of the explosion, the witnesses said.
Amateur video footage posted on the Internet showed thick black smoke billowing from different spots around the flyover whose pylons were also damaged.
Civil defence personnel carried two "completely charred" bodies from the site.
"The death toll of the gas truck fire in Khurays has increased to 22 people, in addition to 111 wounded," a civil defence official said.
Earlier, a civil defence official who requested not to be named said that at least 14 people were killed and around 60 others hurt "in the explosion of the truck when it hit a bridge pylon."
Civil defence spokesman in Riyadh, Mohammed al-Hammadi, said the explosion took place after gas leaked from the tank of the lorry, according to SPA state news agency.
"The explosion and fire happened after leaked gas filled the area. Huge damage happened, in addition to many traffic collisions," he said, adding there were fatalities without specifying how many.
Mr Hammadi said a nearby show yard of construction machinery was severely damaged by the explosion.