Track Palin, the oldest son of former Alaska Gov. Sarah Palin, has been arrested on domestic violence charges for the third time in about three years.
Alaska State Troopers responded to a home in Wasilla about 11:30 p.m. Friday after a report of a "disturbance," according to the Alaska Department of Public Safety.
Once there, investigators said they found that Track Palin had assaulted an unnamed "female acquaintance." When the woman tried to call police, Palin allegedly took her phone away to keep her from doing so.
Palin physically resisted troopers while being placed under arrest, according to the Alaska DPS.
The 29-year-old was charged with fourth-degree assault, interfering with the report of a domestic violence crime, resisting arrest by force and disorderly conduct, according to court records. He was arraigned Saturday.
The arrest comes less than a year after Palin was arrested on domestic violence charges involving his parents. According to a police affidavit for the December incident, Sarah Palin called police to report that her son was at her home "freaking out and was on some type of medication."
Police arrived to find Track Palin moving erratically about the home and his father, Todd Palin, bleeding from his head:
"Track Palin later told police there had been a disagreement over a vehicle, and that when he arrived at his parents' house, he found his father pointing a gun at him through a window.
" 'Track stated he told Todd to shoot him several times,' the affidavit stated. 'Track said Todd tapped the barrel of the gun on the window so he punched the window breaking the window. Track stated he then went through the broken window and disarmed Todd and put him on the ground.' "
"While on the ground, Track Palin hit his father repeatedly in the head, the affidavit said. Todd Palin later told police his son said on the phone he was coming over "to beat his a-" and retrieved his pistol for protection.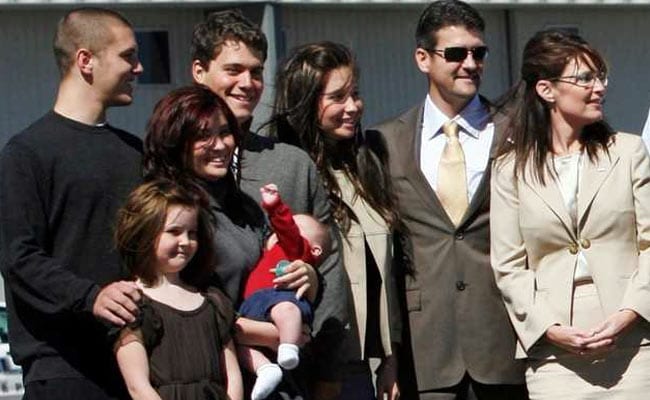 " 'When Track arrived Todd decided that he was not going to shoot his son when Track came through the window,' " the affidavit stated. 'Todd sustained injuries to his face and head in direct result of being hit by Track's fists. Todd had blood from several cuts on his head and had liquid coming from his ear.' "
In June, as part of a plea deal, Track Palin pleaded guilty to one charge of criminal trespassing in exchange for the charges of criminal mischief and assault to be dropped, according to court documents. He also agreed to enroll in a therapy program through the Anchorage Veterans Court, which required him to undergo drug and alcohol testing, the Anchorage Daily News reported. (Palin enlisted in the Army in 2007 and served a year in Iraq in 2008.)
Just last week, days before Palin's most recent arrest, the Daily Mail published "exclusive" footage showing him cleaning an Alaska Salvation Army store as part of his required community service. "Back on Track," the video's title stated.
Palin was first arrested on domestic violence charges in January 2016, after Wasilla police found him at his parents' home, "uncooperative, belligerent and evasive," and his girlfriend of one year hiding and crying underneath a bed.
His 2016 arrest came just one day before his mother was due to endorse then-Republican presidential candidate Donald Trump. At a campaign rally in Tulsa soon afterward, Sarah Palin tied her son's arrest to then-President Barack Obama, whom she accused of not respecting veterans.
"I guess it's kind of the elephant in the room, because my own family going through what we're going through today with my son, a combat vet . . . like so many others, they come back a bit different, they come back hardened," she told the rally crowd in Tulsa, Oklahoma. "It starts from the top. The question, though, it comes from our own president where they have to look at him and wonder, 'Do you know what we go through? Do you know what we're trying to do to secure America and to secure the freedoms that have been bequeathed us?'"
(Except for the headline, this story has not been edited by NDTV staff and is published from a syndicated feed.)