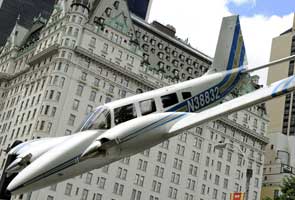 New York:
The Indian flag is flying over a lot of prime Manhattan real estate these days. After the Taj group's acquisition of the Pierre on Fifth Avenue, it's now the turn of the Sahara Group, which has bought both the Plaza and a majority stake in the Dream Hotel.
The Plaza Hotel is a New York City icon, with a stature in the city that equals that of the Mumbai Taj or the Imperial in Delhi. Over the years, it has been immortalised in fiction, in the best-selling children's book Eloise and The Great Gatsby and in films like Macaulay Culkin's blockbuster Home Alone II, The Scent of a Woman, The Way We Were and Crocodile Dundee.
Over the years, the Plaza has changed hands many times, at broadly increasing prices. But as any real estate investor will tell you, timing is everything. Buy at the peak of a real estate bubble, as Donald Trump did in 1988, and you could lose money even over a seven-year period. Buy in the aftermath of a recession as Troy Richard Campbell did, and you could exit at a tidy profit in the next boom.
For years, the quintessential Plaza experience, for those who could afford it, was the high tea in the Palm court. Presidents, dignitaries and royalty have enjoyed its champagne and tiers of finger sandwiches and sweets like Chocolate Bon Bons. It's unclear how much of this heritage Sahara chief Subroto Roy is committed to preserving, but I would not expect samosas to be served here any time soon.
The Dream Hotel was built by another man that has no trouble staying in the news. Vikram Chatwal, son of hotelier Sant Chatwal, conceived of Dream as a place where "fantasies become reality" or so his site claims. Located in the trendy Chelsea neighborhood in downtown Manhattan, The Dream is the place where naked models are known to jump into its glass bottomed pool. The Dream has a vibe that is almost the opposite of that of the Plaza. If the Plaza screams "head of state", the Dream would have "party animal" written all over it.
But there is a deeper connection between the two deals. Speaking with NDTV today, Sant Chatwal confirmed it was he who had brokered the deal between the Sahara Group and the Israeli sellers, and that his company, Hampshire Hotels, will be getting a 20-year management contract to run the Plaza and will also have a small equity stake.
Although the numbers involved might appear large, prime Indian real estate is already worth more than it is in Manhattan. An apartment at Nariman point in Mumbai or Sundar Nagar in Delhi would cost you substantially more than one of similar quality overlooking central park.
Perhaps Indians are the natural buyers for over-priced Manhattan properties, since their domestic real estate market has made them immune to sticker shock.