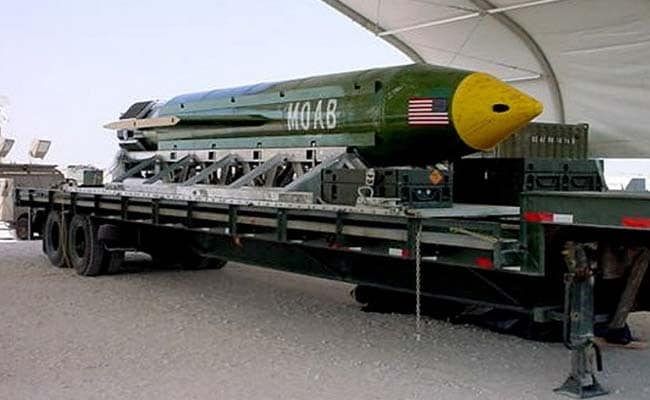 New Delhi:
The United States on Thursday dropped the largest non-nuclear bomb ever used in a battlefield, Massive Ordnance Air Blast bomb - MOAB (also known as the Mother of All Bombs based on the acronym). But contrary to reports, it is not the most powerful bomb on earth. Russia's Aviation Thermobaric Bomb of Increased Power, also known as the 'Father of All Bombs' (FOAB), is reportedly four times bigger than MOAB.
In 2007, Russia tested the FOAB which is a thermobaric bomb with a destruction radius of nearly 1,000 feet and a blast yield of nearly 44 tons of TNT. This lethal non-nuclear bomb explodes mid-air, igniting a fuel-air mixture. It vaporises targets and collapses structures, massive producing blasts and aftershocks. The bomb is so powerful that its result and potential is comparable to nuclear weapons.
United States' MOAB, which previously enjoyed the honor of being the most powerful non-nuclear weapon, is a large-yield satellite-guided air-delivered device. It was first tested in 2003, days before the US-led Iraq invasion. MOAB is a 21,600 pound (9,797 kg), GPS-guided munition. Reports say the MOAB is about 20-feet-long and can burrow through 200-feet of earth and 60-feet of concrete before detonating.
While the MOAB produces almost 11 tons of TNT from 8 tons of high explosive, FOAB's blast radius is 300 meters which is twice of that MOAB. The temperature produced is also twice as high.
Thermobaric arms produce more a lot more energy than normal weapons and are quite hard to control.
Some defense analysts have questioned the veracity of Russia's Father of All Bombs' (FOAB).