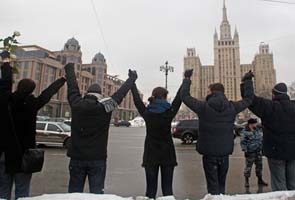 Saint Petersburg:
Russian police on Saturday arrested dozens of people as they broke up opposition rallies in Saint Petersburg and in Nizhny Novgorod on the Volga, an AFP correspondent and activists said.
Truncheon-wielding police violently broke up a protest and detained several dozen people in Nizhny Novgorod protesting strongman Vladimir Putin's crushing victory in presidential polls, activists said.
Another 40 people were detained at an unsanctioned protest in the former imperial capital Saint Petersburg after scores were detained on Monday following a similar protest in Russia's second city, an AFP correspondent said.
Using batons, police in Nizhny Novgorod roughly detained around 50 to 60 protesters after about 1,000 gathered for a march and subsequent rally, an opposition activist said.
Konstantin Baranovsky, a leader of the Solidarnost (Solidarity) movement, said the rally proceeded peacefully before police started pulling people out of the crowd and beating them with truncheons.
"This happened for the first time since 2007 when an opposition rally was violently dispersed," Baranovsky told AFP.
Around 250 people gathered in Saint Petersburg as the budding protest movement attempted to sustain its momentum following Putin's decisive victory in March 4 polls that gave him a third Kremlin term.
Unlike a simultaneous protest in Moscow, the Saint Petersburg rally was not sanctioned and police detained around 40 people, a local police spokesman told AFP.
The detentions came after dozens were arrested in Saint Petersburg at an unsanctioned rally of around 1,500 people on Monday.
Many fear Putin's crushing victory will take the sting out of the opposition movement but those at the rally expressed the hope that Russians will continue to stand up for their rights.
"I am sure this is not the last protest," Viktor Drobyshev, 38, told an AFP reporter in Saint Petersburg.
"The fact that there are so few of us does not mean anything. Many have just been released following the detentions on March 5. They haven't had the time yet to come to their senses."