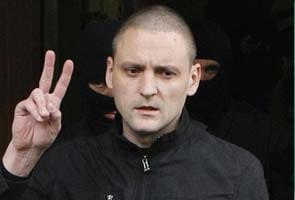 Moscow:
Russian investigators opened criminal proceedings against a prominent leader of protests against President Vladimir Putin on Wednesday, saying a documentary on a pro-Kremlin TV channel showed evidence Sergei Udaltsov had plotted mass disorder.
Law enforcement officials raided Mr Udaltsov's Moscow apartment around daybreak and said they were also searching the homes of two associates facing the same charges, which carry a prison sentence of up to 10 years.
The Kremlin appeared to be probing how far it could go in cracking down on the protest movement, according to opposition parliamentarian Dmitry Gudkov, who has led anti-Putin rallies with Udaltsov since late last year.
"They will be taking the temperature of society. The repressions will continue," Interfax quoted him as saying.
The criminal case focused on allegations aired in a documentary on NTV television that Udaltsov received money and orders from an ally of Georgian President Mikheil Saakashvili to cause unrest in Russia.
"The main department of the Investigative Committee opened a criminal case against Sergei Udaltsov ... based on evidence of ... preparing mass disorder," the federal Investigative Committee said in a statement on its website.
Mr Udaltsov said that he was being taken to the committee's headquarters for questioning following the search.
The statement said investigators were also looking at allegations that Mr Udaltsov - a leftist known for his shaved head, leather jacket and frequent short-term jailings for disobeying police - had planned "terrorist acts" in Russia.
Mr Udaltsov, one of the leaders of a series of opposition protests in Moscow over the past year that were the biggest since Putin came to power in 2000, has denied the allegations aired on NTV earlier this month.
Critics accuse the Kremlin of a politically motivated crackdown to stifle any public unrest.
The Investigative Committee, which answers only to the president, also issued a stark warning to protest leaders, who Putin has at times publicly ridiculed and accused of receiving Western support.
WARNING
"Those who think they can with impunity organise riots, plan and prepare terrorist attacks and other acts that threaten the lives and health of Russians, you underestimate the Russian special services' professionalism," the statement said.
The Investigative Committee, led by Putin loyalist Alexander Bastrykin, has also pressed charges against opposition leader Alexei Navalny for organising the theft of timber from a state firm. He denies this. Navalny also faces 10 years in prison.
The Investigative Committee said it had launched the prosecution after studying documentary footage from NTV that showed Udaltsov and others meeting with the former head of the Georgian parliament's defence committee Givi Targamadze in the Belarusian capital of Minsk.
Georgia, under Saakashvili's administration, cut diplomatic relations with Moscow after a five-day war with Russia over two Kremlin-backed breakaway regions in the South Caucasus nation.
"The voice recorded in the footage shot with a hidden camera... belongs to Udaltsov, and the meeting, excerpts of which are shown in the film, took place in the second half of June 2012," the statement said, referring to NTV documentary "Anatomy of a Protest 2".
NTV, owned by the media arm of state-controlled gas export monopoly Gazprom, has been used regularly to criticise those who have fallen foul of the Kremlin.
Almost all protests against Putin have been officially sanctioned by the authorities, although one demonstration on the eve of the president's inauguration led to rare violence between demonstrators and the police.
The protest movement grew out of allegations that widespread fraud enabled Putin's United Russia party to win a parliamentary election last December despite declining popular support.
But the victory of United Russia in local and regional elections on Sunday underscored the opposition's failure so far to parlay street protests into an effective, broad popular challenge to the president.
© Thomson Reuters 2012