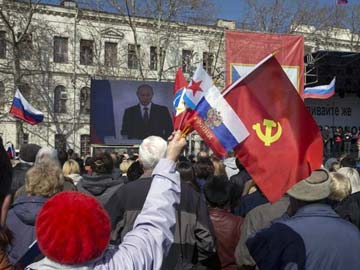 Moscow:
Russia has retaliated against expanded sanctions imposed by Western countries over its annexation of Ukraine's Crimea region, the Foreign Ministry said on Friday without naming any U.S. or European Union officials affected.
The United States and the EU have imposed two rounds of visa bans and asset freezes on Russian officials, lawmakers and other allies of President Vladimir Putin to punish Moscow for what Western states say is the illegal seizure of Crimea.
"Naturally, such actions cannot be left without a reaction," Foreign Ministry spokesman Alexander Lukashevich said in a statement. "The Russian side has taken measures in response, which in many ways mirror (the Western sanctions)."
He did not name anyone affected. State-run news agency RIA quoted an unidentified high-level official as saying the new figures on Moscow's blacklist would find out they were barred from entry "when they (try to) cross the Russia border".
Some of the 11 U.S. officials and lawmakers named on an initial Russian blacklist announced last week treated the idea of being barred from Russia with derisive sarcasm. Senator John McCain said it meant his "spring break in Siberia is off".
Crimeans voted to secede from Ukraine and join Russia in a March 16 referendum dismissed as a sham by Western governments that say it violated Ukraine's constitution and was held only after Russian forces seized control of the Black Sea peninsula.
The United States and EU, worried that Putin could seek to take control of parts of eastern and southern Ukraine, have warned they could impose broader sanctions affecting entire sectors of Russia's economy if he escalates the crisis.
While it listed McCain and 10 other U.S. officials and lawmakers barred from Russia in response to the initial U.S. sanctions, Moscow has not named any affected officials from the EU, Canada or Australia, which have imposed similar measures.
© Thomson Reuters 2014