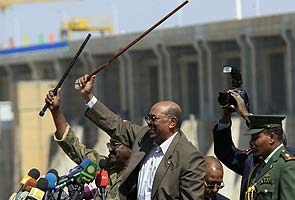 Khartoum/ Juba:
The leaders of Sudan and South Sudan will meet on Friday to discuss how to improve border security and resume vital oil flows, both sides said on Tuesday as the feuding African neighbours signalled possible concessions.
The countries, which fought one of Africa's longest civil wars ending with a peace deal in 2005, signalled concessions ahead of the summit.
Sudan's President Omar Hassan al-Bashir and South Sudan's Salva Kiir accepted an invitation from Ethiopia to meet in Addis Ababa, spokesmen for both governments said.
The African Union, backed by Western powers, had urged holding the meeting in order to end a stalemate over how to set up a demilitarised buffer zone along the disputed border after the countries came close to war in April.
Bashir and Kiir agreed in September in Ethiopia to resume oil exports from the landlocked South through Sudan.
Juba shut down its oil production, a vital source of revenue for both countries, in January after failing to agree with Sudan on an export fee, one of several conflicts left over from South Sudan's secession in 2011.
Neither country has yet withdrawn its respective army 10 km (six miles) from the border to set up a buffer zone, a condition to restart oil flows. Both accuse each other of supporting rebels on the other's territory.
In a speech on New Year's Eve, Kiir said the new republic he leads was willing to withdraw its troops from the 1,800-km (1,200-mile) long border.
"To be able to establish the border monitoring mission, we are temporarily withdrawing our forces from the immediate border areas," Kiir said.
"This will allow for a demilitarised border zone to be operational," he said, without giving a date for the pullout. "We hope that these arrangements will make sure that peace and stability is maintained along our common border."
South Sudan's Information Minister Barnaba Marial Benjamin told Reuters the withdrawal would have to be coordinated.
"The summit will be held to improve the atmosphere ahead of the next round of talks," he said. Security officials from both countries are scheduled to meet in Addis Ababa on January 13.
No oil flows yet
Bashir did not mention Kiir's comments at a rally on Tuesday but said Sudan wanted to implement the September deals, which would include the troop pullback, and open the border for trade.
"We strive and will continue to strive to improve ties with our neighbour South Sudan which has signed with us a peace agreement," Bashir told a crowd in Blue Nile state which borders South Sudan.
"We are ready for good neighbourly relations and cooperation and we want to implement all agreements signed in Addis Ababa," he said.
South Sudan seceded from Sudan under a 2005 peace deal which ended decades of civil war but both countries have yet to agree on ownership of several disputed border regions.
South Sudan originally had hoped to resume oil exports by January but has postponed turning on wells until the buffer zone is in place.
The two rivals are also at odds over Abyei, an area between Sudan and South Sudan prized for its fertile grazing land.
© Thomson Reuters 2013