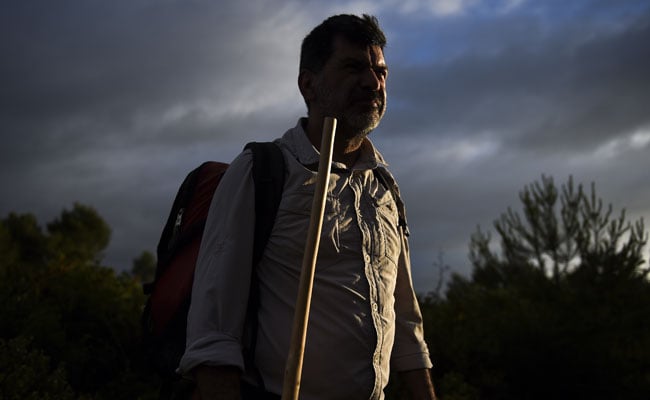 Cascais, Portugal:
Carlos Gil is a "payer-off of promises," at least that is the way the Roman Catholic refers to himself. But he is more commonly known as a "rent-a-pilgrim".
The 52-year-old Portuguese national takes on pilgrimages by proxy -- in the name of others -- especially Catholics unable because of sickness to undertake the journey or too busy or lazy for the week-long spiritual walk to the central Portuguese town of Fatima.
He can be hired for 2,500 euros ($2,700).
Gil is one of the nearly one million Catholics who will descend at the weekend upon the town where three child shepherds reported visions of the Virgin Mary 100 years ago.
Two of the children will be declared saints on May 13 during a visit by Pope Francis.
But Gil almost certainly will be the only pilgrim to make the trip on foot and invoice his walk.
"It's not about making money but being in the service of others," he told AFP in an interview at his home before setting off. "It's a deal we strike with God".
The 2,500-euro price is a fixed rate -- the lighting of a candle costs an additional 25 euros, while asking him to recite the rosary is another 250 euros.
The rate also goes up if the client wants Gil to shuffle the last 400 metres (quarter of a mile) on his knees, from the shrine's public square to the chapel where the visions are said to have taken place in 1917.
A pilgrimage, made for oneself or others, can be for various reasons: to fulfil a promise to God, as a request for healing, a baby or professional success, to give thanks when a request has been granted or to atone for sins.
"For me, it's a passion. I am Catholic, but if I had been born in Saudi Arabia, I would be Muslim and would make pilgrimages to Mecca," Gil said.
Staff in hand, backpack on his shoulders, Gil leaves his small white villa near the coastal town of Cascais, about 30 kilometres (19 miles) from the capital Lisbon.
It is 7:30 am and raining but Gil wants to make it in enough time to see the pontiff, after seeing Pope Benedict XVI in Fatima in 2010.
Gil's sister Maria Jose, 50, will walk with him.
Crazy idea'
By taking small country lanes far removed from the main roads, Gil will arrive at the shrine six days later, the day before the papal visit. He will have walked 200 kilometres, spending nights in private homes or underneath the stars.
"I make no physical preparations before the pilgrimage," said Gil, a father of two grown sons, sporting a salt and pepper beard, who admits to being "lazy".
"It's spiritual. We are in a state of grace".
Gil believes there are very few Catholics, if any at all, offering the same services in his home country, but he has attracted imitators in Germany where "rent-a-pilgrims" advertise services online.
He said the "crazy idea" came to him one day in 2001, to "revive this ancient tradition from the Middle Ages" where rich noblemen lacking time or in poor physical condition hired pilgrims by proxy.
The practice remains largely secret as the Catholic Church does not condone paying people to act as a proxy pilgrim. It is much more common for the annual hajj, however.
According to the Church's Message of Fatima movement, over 40,000 pilgrims are expected to make the walk to the sanctuary and to see the pope.
With the visit by Francis, "a charismatic pope close to the people," the requests for pilgrimages by proxy "came earlier than usual," Gil said.
'It's a scam'
He said he makes "two or three pilgrimages a year" and "each is always for one person".
Clients, all Portuguese-speaking, contact him through his site peregrino.org. Once terms have been agreed upon, the client wires him the amount and he takes off.
Upon completion, Gil sends a certificate with official stamps from each stop along the route.
Once the owner of a small computer company, Gil now has business cards listing his occupation as a "payer-off of promises" and real estate agent.
"My colleagues know what I do, they laugh about it a lot, a real estate agent who wants to become a saint," he said.
His parents had intended him for the priesthood, but his family's hurried departure from Angola, a former Portuguese colony, during the country's fight for independence in 1975 extinguished those plans.
Gil's current occupation, however, has attracted "violent criticism" on social media. "People are sometimes very aggressive. They don't know me," he said.
He has also drawn the ire of Rodrigo Cerqueira, president of the Association for Friends of Walks of Fatima, who said that being a "payer-off of promises, it's a disgrace. They take advantage of people".
"Given their prices, it's a scam," Cerqueira told AFP.
Gil declined to say much about who this year's pilgrimage is for, only that it is a woman who contacted him through the popular WhatsApp messaging service.
"On principle, I never ask them about their reasons to avoid passing judgment," he said.
(Except for the headline, this story has not been edited by NDTV staff and is published from a syndicated feed.)