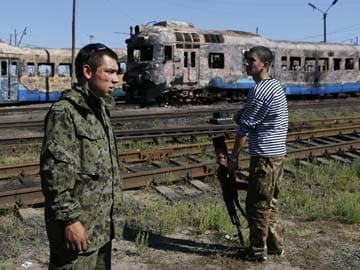 DONETSK, Ukraine:
Pro-Russian rebels in Ukraine on Saturday accused Kiev's forces of breaking a ceasefire just hours after it was agreed, and vowed to pursue their independence drive in the east.
A leading member of the parliament established by the self-proclaimed Donetsk People's Republic said Ukrainian units had launched several missiles toward rebel positions after the truce went into effect at 6:00 pm (1500 GMT) on Friday.
"The ceasefire's terms are not being observed," Vladimir Makovich told AFP.
On Friday "at 9:00 pm, we saw several missiles launched on the outskirts of the city of Donetsk, and also a heavy armoured column moving from the (neighbouring southwestern region) of Zaporizhia."
His comments were echoed by the "prime minister" of the People's Republic, Aleksander Zakharchenko, in comments to Russian state news agency RIA Novosti.
"It is too early to speak completely of a ceasefire," he said.
Ukraine's military said earlier there had been no fighting in Donetsk since the ceasefire deal and AFP reporters in conflict zones said the situation appeared to be calm.
The rebel Donetsk parliament's speaker Boris Litvinov insisted that the separatists had not given up their goal of an independent state in the east despite the truce.
He said he disagreed with most of the terms made public by Ukrainian President Petro Poroshenko after the 12-point peace pact was signed by representatives of Kiev and the rebels in the Belarussian capital Minsk.
"The elements announced by Poroshenko are unacceptable to us. Only two of the articles that they made public were acceptable -- the ceasefire and the prisoners swap," Litvinov said in an interview with AFP.
"My position, and the position of the (separatist) parliament is that the most important thing after the negotiations is (Kiev's) recognition of an independent republic that will be called either the Donetsk People's Republic or Novorossiya (New Russia)," he said.
Russian President Vladimir Putin has frequently referred to former tsarist lands in eastern Ukraine as New Russia, which groups both Donetsk and the neighbouring separatist region of Lugansk.