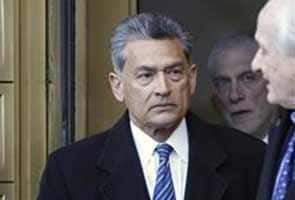 New York:
The trial of Rajat Gupta enters its second week today as court resumes after a long Memorial Day weekend. It has been a damaging opening week for the former Goldman Sachs Director as the prosecution took to the stand to present its case- playing their trump card- wire tap recordings of Hedgefund owner Raj Rajaranam's cell phone that Rajat Gupta's lawyers had argued unsuccessfully should not be used in the trial.
There was pin-drop silence as the voices of Rajat Gupta and Raj Rajaratnam filled the courtroom over its audio system.
According to the FBI's wire tapped of a conversation that occurred on July 29, 2008, Mr Rajaratnam asked about a rumor that Goldman Sachs might look to buy a commercial bank. On the other end of the phone, Mr Gupta confided that the Goldman Sachs board had discussed acquiring Wachovia or an insurance company.
Mr Gupta's lawyers argue that Wachovia information was already disclosed to the public but former Judge Richard J Holwell, who presided over the Rajaratnam trial, explains the cards are stacked against the defence."A tape recording is an unusual piece of evidence. It has a great impact on the jury to hear witnesses speak without any guard up and I would expect that the defense will have a difficult time in dealing with the tape recordings in this case" said Justice Holwell.
According to US law, an essential requirement for an insider-trading conviction is that the tipper has to have benefited too.
Since Mr Gupta did not benefit from the trades placed by Mr Rajaratnam, the prosecution is aiming to show that he had close business ties with the fund manager, which he was looking to strengthen in the hope of doing more business together.
The government dug up a September 2007 email sent from Rajat Gupta to Bill George, another Goldman Sachs director and professor at Harvard Business School, asking him to invest in New Silk Route, the private equity fund that he had set up with Mr Rajaratnam.
The jurors watched as the email was projected on a huge screen in the courtroom. It read, "Bill, I don't know whether New Silk Route is a good fit with your investment portfolio, but I thought some Indian and Asian exposure may be good. It would be a privilege to have you as an investor, and I hope you will consider it seriously. I will follow up with you next week at the Goldman board meeting."
Prosecutors also exhibited email and audio evidence to debunk one of Mr Gupta's chief defenses: that he and Mr Rajaratnam were not that close and, at some point, even had a falling out. "Raj is one of the most outstanding hedge fund managers and a very close friend," Mr Gupta wrote in February 2007 to a colleague at consulting firm McKinsey & Company.
In fairness to Mr Gupta, these enthusiastic endorsements came more than a year before he suffered losses on his investment in the Galleon funds; something that his lawyers have suggested caused a falling out between the two men.
Prosecutors played an audio tape as recent as July 2008 that suggests that Gupta was keen to cultivate Mr Rajaratnam as a potential business partner. On the same 24 minute recording, Mr Gupta is heard saying "By the way, on that I want you to keep, us to keep having the dialogue as to what ... you know, how I can be helpful in Galleon International." But given that the Galleon funds suffered heavy losses in July and August of 2008, which wiped out Mr Gupta's investment, the defence will argue that it is unlikely Mr Gupta was feeling particularly warm towards Mr Rajaratnam at the time he is alleged to have given the tips.
Still, Manhattan based attorney Ravi Batra argues, "It is a very tough case for the defence to win even when it is the government's burden to prove guilt beyond doubt, because it is very damming. Beyond the words it is the tone, the comfort level, the coziness between the two."
If courtroom performance is anything to go by, the prosecutors are off to a strong start. But the defendant's star-studded defence team will be able to punch back next week when it is their chance to present witnesses. For all the strength of the prosecution's opening salvo, the case against Mr Gupta lacks the slam-dunk evidence that sank Mr Rajaratnam, The government does have a case based on circumstantial evidence, but what they do not have is Mr Gupta on tape, or anyone naming Mr Gupta on tape, as being a source of insider information.
Rakesh Kaul, chairman of Spherenomics, a venture fund and a friend and supporter of Rajat Gupta counters, "Wire taps went on for 8 months. Over 2000 calls were taped. Out of 2000 calls there are only two calls between Mr Rajat and Mr Rajaratnam. Is that the body language of supposed co-conspirators indulging in insider trading? It defies logic. It defies common sense."