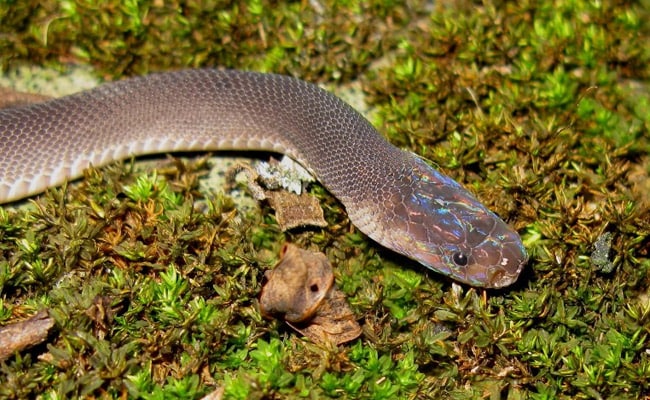 Bangkok:
A rainbow-headed snake, a dragon-like lizard and a newt that looks like a Klingon from the Star Trek series are among 163 new species found in the ecologically diverse but threatened region of Greater Mekong, according to a new WWF report released today.
In all, nine amphibians, 11 fish, 14 reptiles, 126 plants and three mammalian species discovered last year in the Mekong region in Southeast Asia were described for the first time in the new report by the World Wildlife Fund (WWF).
The new rainbow-headed snake, Parafimbrios lao, found in Laos has been likened to David Bowie's "Ziggy Stardust" character.
It has unique colouration pattern and different number of scale rows and upper teeth. Not only was this snake a new species, it was part of a whole new Genus: Parafimbrios. The 'Klingon Newt' (Tylototriton anguliceps) is the fourth newt species found to exist in Thailand.
It measures between six to seven centimetres long, and is distinguished by a dorsal ridge and unique red markings. The Phuket Horned Tree Agamid (Acanthosaura phuketensis) is a lowland forest dwelling lizard species native to Phuket Island and the Phuket mountain range in Southwest Thailand.
This medium-sized species is distinct from its mainland relatives based on unique colouration, placement and size of its many threatening-looking horns on its head and down its spine.
As the Mekong River snakes its way through Southeast Asia, it passes through some of the most biodiverse land on earth.
From its origins in China's Tibetan-Qinghai Plateau to Southern Vietnam where it empties into the South China Sea, the river acts as the backbone of a region where the wildlife is as diverse as the 300 million people that call it home.
Between 1997 and 2015 there have been 2,409 new species described in this region, adding to the over 430 mammal species, 800 reptiles and amphibians, 1,200 birds, 1,100 fish and 20,000 plant species already known to science.
However, it is not all good news for wildlife in the Greater Mekong, according to the WWF.
The region is under unprecedented development pressure, threatening the survival of the natural landscapes that make it so unique.
Construction is well underway on the Don Sahong Dam in Laos, a project that could have disastrous effects on the last Mekong Irrawaddy dolphins and the millions of people depending on the river's fisheries.
In Thailand, the proposed Mae Wong dam, presented as a solution to water management issues in Nakhon Sawan province, has the potential to irreparably damage one of country's most important forest and wetland ecosystems, which also happens to be a critically important tiger habitat.
Even more direct threats to these species are poaching for bushmeat and the multi-billion dollar illegal wildlife trade. Hundreds of snares can be set in a single night in the region's dense forests and they do not discriminate among species.
(This story has not been edited by NDTV staff and is auto-generated from a syndicated feed.)