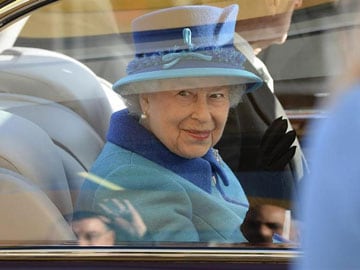 London:
Queen Elizabeth II will smash a bottle of whisky over Britain's biggest warship on Friday as she gives her name to the new aircraft carrier at a ceremony in Scotland.
The 65,000-tonne HMS Queen Elizabeth is one of two carriers built at a cost of £6.2 billion ($10.6 billion, 7.8 billion euros) to overhaul Britain's naval capabilities.
But the pomp of the ceremony at Rosyth Dockyard comes despite serious doubts about the carrier, which will not be able to operate its US-built jets until 2020.
The 88-year-old monarch will be accompanied by her husband Prince Philip at the dockyard in Fife, near Edinburgh, where the diesel-powered warship has been assembled.
Prime Minister David Cameron and Scottish First Minister Alex Salmond will also be there.
In honour of the location, she will eschew the traditional champagne and instead smash a bottle of Bowmore malt whisky from the Scottish island of Islay onto the ship.
- Three times length of Buckingham Palace -
The ship measures 280 metres (920 feet) long -- the equivalent of 28 London buses and almost three times the length of Buckingham Palace -- and 56 metres from keel to masthead.
The Royal Navy has been without any aircraft carriers since Cameron's coalition government scrapped Britain's previous vessels in 2010 as part of austerity measures to curb a huge deficit.
The metal was first cut on the new HMS Queen Elizabeth five years ago and she is set for her first sea trials in 2016, before entering service in 2017.
Its sister ship, HMS Prince of Wales, is still under construction.
Once they are fully operational, the warships will be able to carry 40 aircraft, both rotary and fixed wing, and are intended to provide a mobile base for Britain's navy, army and air force around the world.
But it will not actually be able to operate with its complement of US-built F-35 Lightning II jets until 2020, meaning Britain faces another six years without any active carrier capability.
The F-35 has been dogged by problems. The United States military grounded its entire fleet of the aircraft on Thursday as it completes additional engine inspections following a fire aboard one of the aircraft in Florida last week.
There have also been questions about whether Britain needs such a large carrier when its military role in the world is diminished.
Two months before Scotland votes in an independence referendum on whether to stay or leave the United Kingdom, Defence Secretary Philip Hammond said it showcased the best of Britain.
"This ship, the biggest the Royal Navy has ever had, is a demonstration of the UK at its very best with workers from across the Union contributing," he said in a statement.
Built by a partnership comprising BAE Systems, Babcock, Thales and the Ministry of Defence, the construction has involved 10,000 people across six ship yards.
Whisky from the Bowmore Distillery, which dates back to 1779, was chosen to for the ceremony because the queen previously paid an official visit to the distillery.
"World class whisky and world class shipbuilding are two of Scotland's finest products so Friday promises to be a special day when we blend the two of them," said Scottish Secretary Alistair Carmichael.