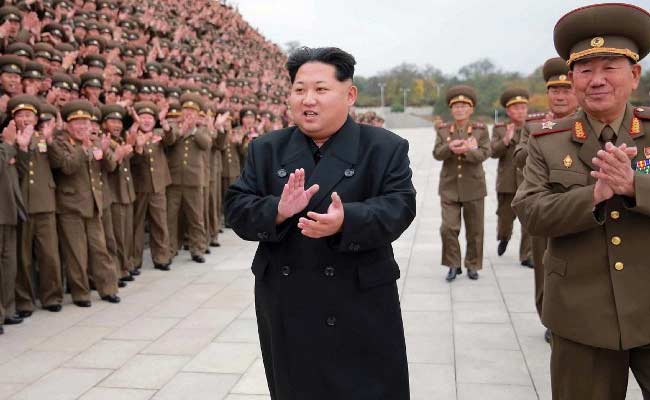 Seoul:
After weeks of sabre-rattling, including a threat that military action was an "option on the table" to check North Korea's nuclear and missile ambitions, the White House gave a highly anticipated briefing for senators Wednesday
But a statement released afterwards did not mention a military option -- only pledging to step up sanctions in order to force a return to dialogue -- and Admiral Harry Harris said the US was not looking to bring the regime to its knees.
Analysts said the briefing shed little light on Donald Trump's intentions, but that there was every indication the administration was reverting to conventional tactics pursued by previous governments with little result.
Attendees were unimpressed, with Senator Tammy Duckworth, a former US military helicopter pilot who lost both legs in combat in Iraq, telling CNN: "I could've gotten all that information by reading a newspaper."
Here are five questions and answers on the issue:Is this a change of tune by Washington?
"It's so confusing and self-contradictory," says Yang Moo-Jin of the Seoul-based University of North Korean Studies.
"The US kept talking about putting more pressure on the North including military options at the meeting of the ambassadors of the (UN Security Council) only a day before announcing this policy, which seems to be going into a whole new direction."
Has Pyongyang been listening?
Speculation was rife that the North would carry out a sixth nuclear test or a major missile launch to mark two anniversaries in April, 105 years since the birth of its founder Kim Il-Sung -- grandfather of the current leader -- and 85 years since the foundation of its army.
But it did not do so, despite holding a major military parade in Pyongyang for the Kim Il-Sung date where it put on display a suspected new intercontinental ballistic missile.
"The Trump administration was successful in preventing the North from conducting widely expected nuclear or missile tests in April through verbal threats and the deployment of strategic assets such as the Carl Vinson aircraft strike group," said North Korean affairs expert Paik Hak-Soon.
"China also helped curb the North by hinting at further sanctions such as cutting crucial oil supplies."
What would be the effect of US military action?
Pentagon officials have stressed to Trump that there are no easy options for military intervention, and Robert Kelly of Pusan National University said: "The costs of an American strike on North Korea are potentially very high.
"The South Korean capital is very vulnerable to North Korean retaliation. If North Korea chose to hit back against an airstrike it could kill a lot of people, several hundred thousand even."
Paik Hak-Soon added: "Pre-emptive strikes would immediately spark a war and the re-introduction of nuclear weapons back to the Korean peninsula would deprive the international community of any moral justification to demand the North give up nuclear weapons."
As such neither option had ever really been "on the table", he said.
What happens next?
"After flying high for a while, Washington knows quite well it's high time to land and sit down for talks with the North because barring a war, dialogue is the only option," said Hong Hyun-Ik of the private Sejong Institute.
Under Barack Obama, the US said it would only talk with Pyongyang if it first made some tangible commitment towards denuclearisation.
The joint statement gave no explicit preconditions, saying the US was "open to negotiations" towards peaceful denuclearisation and wanted to "convince the regime to de-escalate and return to the path of dialogue towards that goal".
"Strong rhetoric from Washington was all part of efforts to get the upper hand when negotiations resume with the North," said Paik, who is advising South Korean presidential candidate Ahn Cheol-Soo.
"The rhetoric was stronger and therefore the momentum for dialogue this time will be all the stronger."
But Hong warned: "There appears only a slim chance of seeing any agreement coming out of such talks in the foreseeable future."
Are we back to business as usual?
"I don't see much of a difference between the latest announcement and the Obama administration's 'strategic patience' policy," said Prof Yang.
Under Obama, the US hoped that sanctions pressure and internal stresses in the isolated country would bring about change, and consistently urged China to do more to rein in its neighbour and ally -- as the Trump administration has done.
Critics said the policy of "strategic patience" gave Pyongyang room to push ahead with its nuclear ambitions, and Tillerson and other US officials said earlier this year that it had "failed", promising an unspecified "new approach".
Kelly told AFP: "My guess is the Trump administration, after a great deal of bluster and sound and fury, will back off and we will be where we had been before, which is to say containment and deterrence of North Korea while we continue to negotiate with China."
(This story has not been edited by NDTV staff and is auto-generated from a syndicated feed.)