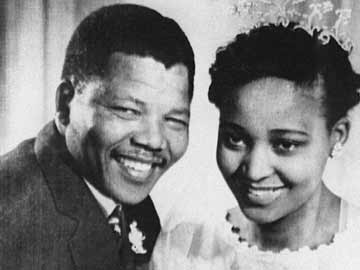 Johannesburg:
Nelson Mandela, who was separated from his family for nearly three decades in an apartheid prison, endured a long history of heartache in his private life.
His last high-profile heartache came when his great-granddaughter died in a car crash on the eve of the 2010 World Cup, Africa's first, an event Mandela was instrumental in bringing to the country.
Thirteen-year-old Zenani Mandela was a favourite of Mandela's and was chosen to carry the Confederations Cup trophy onto the podium at the final at Johannesburg's Ellis Park in June 2009.
Her death was the latest in a long line of family tragedies for the world's best-loved statesman who witnessed the loss of three of his children and two broken marriages.
Mandela, who died Thursday aged 95, was plunged into mourning during his first marriage to Evelyn Ntoko Mase, when their baby daughter Makaziwe died at just nine months in 1947.
The couple's oldest son, Madiba Thembekile, was then killed in a car accident in 1969, while Mandela was in prison on Robben Island.
At the time he was serving a life sentence for his role in creating the armed wing of the African National Congress, and the apartheid authorities refused to allow him to attend the funeral.
He was also barred from attending his mother's funeral the previous year.
In his first memoir, "Long Walk to Freedom", Mandela wrote of the pain he felt at missing the funerals and his guilt at putting the political struggle before his family.
"Had I made the right choice in putting the people's welfare even before that of my own family?" he asked.
"In South Africa it is hard for a man to ignore the needs of the people, even at the expense of his own family," he said.
"But that did not lessen the sadness I felt."
Mandela's other son with Mase, Makgatho Lewanika Mandela, died of an AIDS-related illness in 2005.
He spoke openly about the cause of his son's death, becoming one of the first public figures to break the taboo around the AIDS epidemic that had engulfed South Africa on its way to becoming the world's worst-affected country.
"Let us give publicity to HIV/AIDS and not hide it, because the only way of making it appear to be a normal illness... is always to come out and say somebody has died because of HIV," he said.
Mandela's marriage to Mase ended in divorce in 1958. He married Winnie Madikizela-Mandela in June the same year, but that marriage also ended unhappily.
After surviving Mandela's long imprisonment, the couple separated two years after his release in 1990, and divorced in 1996 during Mandela's term as South Africa's first democratically-elected president.
Winnie had surrounded herself with a band of thugs christened the Mandela United Football Club who murdered a young activist called Stompie Sepei.
He stood by her when she was convicted for kidnapping Sepei and only in 1992 announced their separation.
Winnie's six-year sentence was suspended on appeal and in 1994 she was made a deputy minister in his government, but was later sacked for insubordination.
She was elected to parliament in 2009, and she remains a prominent political voice.
Mandela remarried again in 1998, to Graca Machel, who is herself no stranger to tragedy. Her first husband, Mozambican president Samora Machel, was killed in a mystery air crash in northern South Africa in 1986.