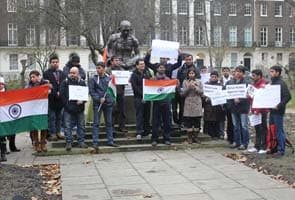 London:
Members of Britain's Indian community on Saturday held a small protest by a statue of Mahatma Gandhi in Tavistock Square, central London, to condemn sexual violence against women in India.
The group held up posters reading "we want justice, special stricter laws for rapists" and chanted slogans, before marching on the Indian High Commission where they handed in a petition calling on the Indian government to implement harsher laws for rapists and introduce fast-track courts to deal with rape cases.
The demonstration follows the death, earlier in the day, of a woman who was gang raped and beaten in New Delhi nearly two weeks ago.
Journalist Spriha Srivastava said the petition calls for "fast-track courts in India and for strict laws for rape."
"Rape is one of the fastest growing crimes in India at present and we are all here to request the government to come up with strict laws for rape so that it acts a deterrent for the rapists," she said.
Indian police charged six men with murder on Saturday, on top of accusations that they beat and gang-raped the woman on a New Delhi bus in a case that shocked the country.
The murder charges were laid after the woman died earlier on Saturday in a Singapore hospital where she had been flown for treatment.
The tragedy has forced India to confront the reality that sexually assaulted women are often blamed for the crime, forcing them to keep quiet and discouraging them from reporting it to authorities for fear of exposing their families to ridicule.
Police often refuse to accept complaints from those who are courageous enough to report the rapes, and the rare prosecutions that reach courts drag on for years.
Indian Prime Minister Manmohan Singh said he was aware of the emotions the attack has stirred, adding it was up to all Indians to ensure that the young woman's death will not have been in vain.