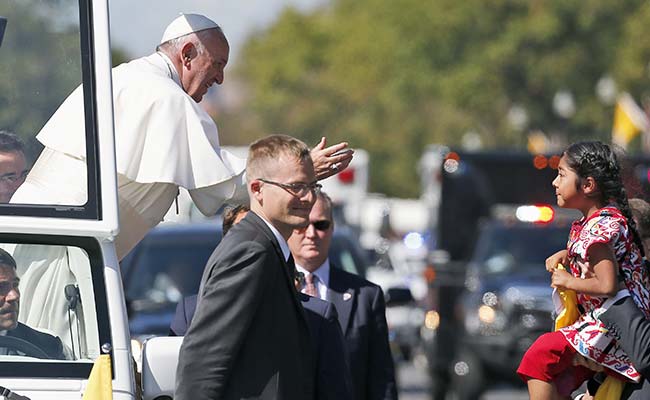 Washington:
As Francis drew nearer and nearer in his open-sided popemobile and the crowd in Washington whooped, squealed and quivered, the little girl with black pigtails spotted her chance.
Her name was Sofia Cruz, and her story soon went around the world: how a five-year-old had the bravado to deliver a message to the pope on behalf of the United States' millions of undocumented migrants.
In a flash, Sofia clambered over a metal barrier, darted out onto stately Constitution Avenue and headed straight for the pontiff -- Secret Service agents be damned.
Guards nabbed her about half-way there, but the pope waved for them to bring her to him. For her trouble, she got a gentle hoist, a hug and a kiss from Pope Francis himself.
And as the crowd roared with surprise and excitement, Sofia slipped the pontiff her letter.
Born on US soil to Mexican parents, Sofia traveled across the country as part of a group of a dozen faithful, her father among them, from Nuestra Senora Reina de los Angeles parish in Los Angeles.
"She handed the pope a letter asking him to support the drive to legalize undocumented migrants living in the United States," the parish said when contacted by AFP.
The spokeswoman was unable to confirm whether her own parents were undocumented.
Britain's Guardian newspaper later spoke to the child, who told it she had learned by heart the contents of a letter, in Spanish and English.
"I want to tell you that my heart is sad," it quoted her as saying. "All immigrants just like my dad help feed this country. They deserve to live with dignity. They deserve to live with respect. They deserve an immigration reform."
- 'Crowd going nuts' -
Joseph Reblando, another pope-greeter, happened to be standing right next to the girl and her dad and caught it all on film.
"She came back and her father was just in tears. And the whole crowd in my section were just going nuts," he told AFP afterwards.
Backers of immigration reform were also swift to seize upon the poignant episode in the hours that followed.
"A 5-yr-old girl shared her story with Pope Francis today&highlighted why we need #ImmigrationReform," tweeted the Democratic Senator Dick Durbin.
Thus went one small slice of Pope Francis' ride through crowds of faithful in downtown Washington on Wednesday, along the National Mall, past the Washington Monument, after talks with President Barack Obama during his first US visit.
The day held other unexpected moments, and gestures of papal affection: earlier, at Francis' behest, a baby was held up to him for a kiss on the forehead.
Thousands of people lined the streets for a brief glimpse of the 78-year-old Argentine pontiff, who stood, smiled and waved from his shiny white popemobile.
Those who could perched on sidewalk benches. Kids rode their parents' shoulders.
A large screen TV aired Obama and the pope speaking earlier at an outdoor ceremony at the White House. The waiting crowd roared when Obama noted the US is home to some 70 million Catholics, and cheered again when the pope said, in halting English, "God Bless America."
Ask just about anybody in the crowd and they'd rave about the man, about his shift away from stressing church doctrine against same sex marriage, say, and focusing more on fighting global warming, helping the world's poor and its refugees and migrants.
- A 'very different' pope -
"I think this guy is very different. He's kind of a futuristic pope, so down to earth, so humble, so loving, and leading by example," said Cristina Temboury, 46, a civil servant.
"He is a fantastic leader, somebody we need," she added.
Puthupparampil Scaria, a 59-year-old Catholic born in India, put it this way: "He is so genuine. He is more like a pastor than a pope."
Temboury's only lament of the day was what she called a catastrophic cellphone blunder: at the moment of truth, after so many hours of waiting, she had the thing set on selfie.
"I took 15 pictures of myself as the pope was going by," she said, laughing.
One older Catholic, retired electrical engineer Don Sasnacht, 72, called Francis amazing and praised his communications skills in particular.
He admitted he finds hard to stomach the widespread impression that Francis is less rigid on hot button social issues such as gay marriage.
Still, he said he is willing to forgive the pope on that one.
"It comes with the package. I mean, when was the last time you saw a president that you agreed with 100%?," Sasnacht mused.