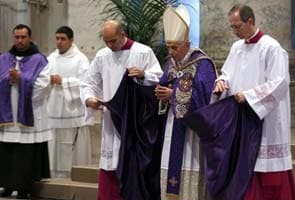 Vatican City:
Pope Benedict indicated on Thursday he would withdraw into isolation, away from public sight after his resignation at the end of the month.
"Even if I am withdrawing into prayer, I will always be close to all of you and I am sure that you will be close to me, even if I remain hidden to the world," he said in unscripted remarks to priests from the diocese of Rome, in his capacity as bishop of the Italian capital.
© Thomson Reuters 2013
For the latest News & Live Updates on Election Results from each assembly constituency in Madhya Pradesh, Rajasthan, Mizoram, Chhattisgarh, Telangana, like us on Facebook or follow us on Twitter for updates.