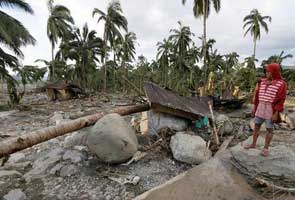 Doha:
A delegate from typhoon-hit Philippines demanded on Thursday that ministers at the United Nations climate talks put aside their political differences and take bold steps to combat global warming.
In an emotional appeal, Naderev Sano spoke of the "heartbreaking tragedy" of Typhoon Bopha, which has so far killed more than 350 people and left hundreds of thousands homeless, and urged participants at the United Nations climate conference in Qatar's capital to stop procrastinating on committing to halting the dangerous trend.
"As we vacillate and procrastinate here, we are suffering. There is massive and widespread devastation back home," Sano said. "Heartbreaking tragedies like this are not unique to the Philippines."
Sano's appeal was the starkest since the talks began nearly two weeks ago in Doha and the latest to connect increasing and more deadly storms such as Hurricane Sandy and climate change.
Climate scientists say it's difficult to link a single weather event to global warming but some say the damage caused by Sandy and other tropical storms was worse because of rising sea levels.
"I am making an urgent appeal not as negotiator, not as a leader of my delegation but as a Filipino," Sano said. "I appeal to whole world, the leaders all over the world. Open your eyes to the stark reality we face. I appeal to ministers. The outcome of work is not what our political masters want. It's about what is demanded by 7 billion people. No more delays. No more excuses. Let Doha be remembered as the place where we found the political will to turn things around."
The appeal came as activists and other ministers at the talks have becoming increasingly alarmed that nothing significant will come out of the conference, which is to end Friday. Rich and poor countries are feuding over financing to help the poorest cope with climate change and commitments from rich countries to tackle emissions in the next few years.
Nations have struggled for two decades to come to agreement that would keep global temperatures from rising more than 2 degrees Celsius (3.6 Fahrenheit), compared to preindustrial times. Temperatures have already risen about 0.8 degree Celsius (1.4 Fahrenheit), according to the latest report by the UN's top climate body.
A recent projection by the World Bank showed temperatures are expected to increase by up to 4 degree Celsius (7.2 Fahrenheit) by 2100.
A deal was never expected at the Qatar meeting but even the minimal goals appear now to be in doubt. Participants are supposed to agree to extend the Kyoto Protocol, which will expire this year.
But so far Japan, Canada, Russia and New Zealand have opted out of the deal leaving the 27-member European Union, Australia and several small countries representing only 15 percent of global emitters.
A work plan is also set be approved to help prepare for what is expected to be a deal in 2015 that would cover all countries and go into effect by 2020.
"Time is running out. I'm getting concerned that ministers are not stepping up to the mark and providing solutions that we need at this stage of the game," Gregory Barkey, Britain's Minister of State for Energy and Climate Change, told The Associated Press.
"We need increased flexibility on all sides and a higher sense of urgency," he said. "Developed countries also need to demonstrate a clear ambition across the board in terms in terms climate goals."
Much of the frustration on Thursday was around the Kyoto extension, with delegates still wrangling over issues like the length of the second commitment period and what countries who signed onto the new pact would do to tackle global warming.
"We are at a make-or-break point. Kyoto is the key to unlocking the deal," said Nauru's Foreign Minister Kieren Keke, chairperson of the Alliance of Small Island States, which includes scores of countries under threat from rising seas. "The second commitment period must have true environmental integrity and raise ambition now. The deal on KP and overall ambition will determine whether we succeed here, or fail."