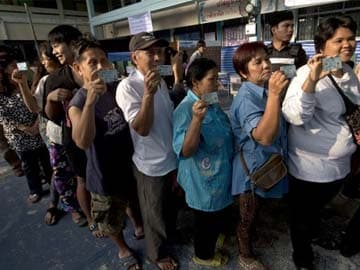 Bangkok:
Thailand's tense national election got underway on Sunday amid signs of disruptions at several polling stations and fears of violence, a day after gun battles between protesters and would-be voters broke out at a busy Bangkok intersection.
The extent of disruptions was not immediately clear when polls opened nationwide, but there were early indications that dozens of polling stations in Bangkok would not open because protesters blocked delivery of ballots or stopped voters from entering.
At least seven people were wounded in Saturday's clashes, including an American photojournalist, when gun battles broke out at a busy Bangkok intersection between government supporters and protesters intent on derailing the polls.
The exchange of fire was the latest flare-up in a monthslong campaign by protesters to overthrow Prime Minister Yingluck Shinawatra's beleaguered government, which they accuse of corruption. The turmoil raised the prospect of more violence on Sunday, when polls opened for an electoral contest that has devolved into a battle of wills between the government and protesters - and those caught between who insist on their right to vote.
Protesters say they plan to fill the streets of the Thai capital to prevent voters from reaching polling stations.
The conflict pits demonstrators who say they want to suspend the country's fragile democracy to institute anti-corruption reforms against Yingluck's supporters and would-be voters who know the election will not solve the nation's crisis but insist the right to vote should not be taken away.
The protesters, a minority that cannot win power at the polls, are demanding the government be replaced by an unelected council that would rewrite political and electoral laws to combat deep-seated problems of corruption and money politics. Yingluck has refused to step down, arguing she is open to reform and that such a council would be unconstitutional.
Since protests began late last year, at least 10 people have been killed and nearly 600 wounded.
"How did we get to this point?" asked Chanida Pakdeebanchasak, a 28-year-old Bangkok resident who was determined to cast her ballot on Sunday no matter what happens. "Since when does going to vote mean you don't love the country?"
Although unrest has already hit Bangkok and polling stations are not expected to open in some parts of the south, voting was expected to proceed smoothly in most of the country.
Police said they will deploy 100,000 officers nationwide, while the army is putting 5,000 soldiers into Bangkok to boost security. More than 47 million people are registered to vote.
Whatever happens, the outcome will almost certainly be inconclusive. Because protesters blocked candidate registration in some districts, parliament will not have enough members to convene. That means Yingluck will be unable to form a government or even pass a budget, and Thailand will be stuck in political limbo for months as by-elections are run in constituencies that were unable to vote.