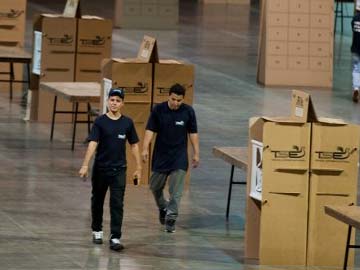 San Salvador:
Balloting got under way in El Salvador on Sunday, where a former guerrilla commander was favored to win a presidential run-off vote in the Central American nation.
Pre-election polls showed Salvador Sanchez Ceren from the Farabundo Marti National Liberation Front (FMLN) comfortably ahead of right-wing candidate Norman Quijano, 67, mayor of the capital city San Salvador. Voting began at 1300 GMT.
Sanchez Ceren, 69, is a teacher by profession and the country's current vice president.
He is also a former education minister, and was one of the five top guerrilla commanders during the civil war.
The FMLN fell just shy of an outright victory in the first round last month, but polls now give Sanchez Ceren an advantage of between 10 and 18 points.
Quijano is a law and order candidate who has campaigned against the country's high crime rate and the notorious "mara" street gangs at the root of much of El Salvador's drug dealing and extortion rackets.