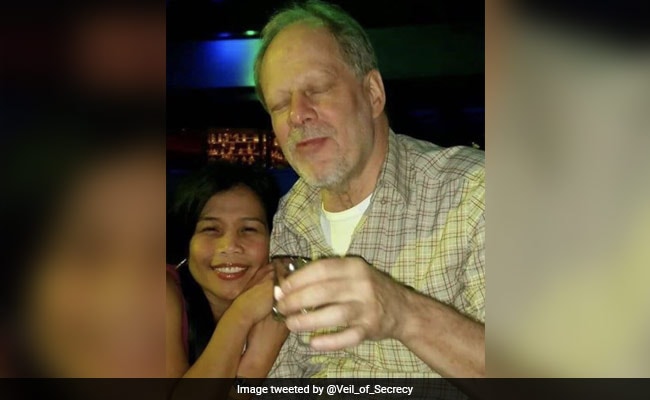 Los Angeles:
Police released their final report on Friday into last year's massacre of 58 people at a country music concert in Las Vegas and said they had been unable to determine why an "unremarkable" wealthy accountant carried out the deadliest mass shooting in recent US history.
Clark County Sheriff Joe Lombardo said Stephen Paddock, 64, acted alone and there was no evidence he had been "radicalized" or was part of any wider conspiracy.
"What we have been able to answer are the questions of who, what, when, where and how," Lombardo said as he released the 187-page police report into the October 1, 2017 shooting.
"What we have not been able to definitively answer is the why Stephen Paddock committed this act," the sheriff said.
Paddock, of Mesquite, Nevada, and Reno, Nevada, fired more than 1,000 rounds down on the crowd at the open-air Route 91 Harvest concert while perched in a 32nd floor room of the Mandalay Bay hotel and casino.
He killed 58 people and the police report said 869 were injured, including 413 who suffered gunshot or shrapnel wounds.
Paddock shot himself in the head as police moved in.
ISIS claimed responsibility for the attack, but the claim was dismissed as unfounded.
"There is no evidence of radicalization or ideology to support any theory that Paddock supported or followed any hate group or any domestic or foreign terrorist organization," the police report said.
"Single shooter, no conspiracy," Lombardo said. "As far as motive, it is unknown."
'An unremarkable man'
"By all accounts Stephen Paddock was an unremarkable man whose movements leading up until October 1 didn't raise any suspicion," the sheriff said.
"An interview with his doctor indicated signs of a troubled mind but no troubling behavior that would trigger a call to law enforcement," he said.
"Without a manifesto or even a note to answer questions the totality of the information that has been gathered leaves us to only make an educated guess as to the motives of Stephen Paddock," he said.
According to the police report, Paddock's doctor told the authorities he did not have any major ailments but "may have had bipolar disorder" for which he refused any treatment.
Lombardo said child pornography had been found on Paddock's laptop recovered from his hotel room, but the hard drive on the machine could not be located.
The sheriff said the FBI's Behavioral Analysis Unit would release a psychological profile of Paddock later this year.
Paddock was one of four brothers who were raised by their mother after their father went to prison for bank robbery, according to the police report.
Paddock worked for the Internal Revenue Service after college and as an accountant for several major corporations.
He made a "substantial amount of money" investing in real estate, the report said, and at one point owned his own airplane.
But there was evidence that Paddock, a heavy gambler known to wager tens of thousands of dollars at a time, had lost a great deal of money in the years leading up to the attack.
A narcissist
The report said that in September 2015 his 14 bank accounts totaled just under $2.1 million.
By September 2017, the total had dropped to $530,000. During 2017, he paid over $600,000 to casinos and made nearly $95,000 in firearms and gun-related purchases.
Twenty-four guns were found in Paddock's hotel room including 10 AR-15 semi-automatic rifles, most of which were equipped with 100-round magazines.
Eighteen more guns were recovered from Paddock's Mesquite residence and another seven from his home in Reno.
Paddock, the report said, "was described by many as a narcissist and only cared about himself."
"Paddock needed to feel important and only cared how relationships would benefit him," it said.
Eric Paddock, one of Paddock's three brothers, told investigators he believed his brother may have carried out the attack "because he had done everything in the world he wanted to do and was bored with everything."
His brother "would have planned the attack to kill a large amount of people because he would want to be known as having the largest casualty count," the report quoted Eric Paddock as saying.
The police report said investigators had also uncovered evidence that Paddock may have been planning to attack the Lollapalooza music festival in Chicago in August or the Life Is Beautiful event in Las Vegas in September before deciding on his eventual target, the Route 91 Harvest festival on the evening of October 1.