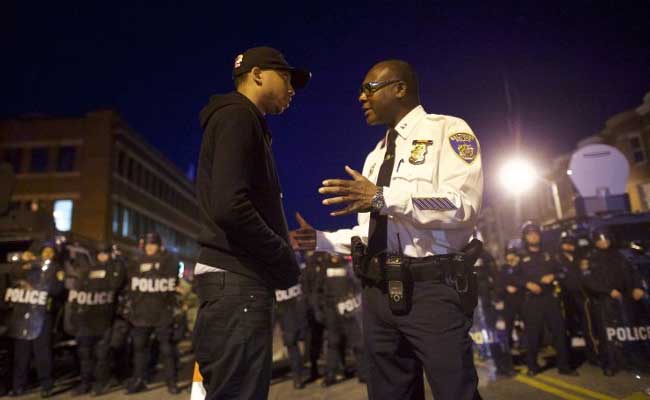 Baltimore, Maryland:
Police fired smoke bombs and pepper pellets at protesters who defied a citywide curfew that went into effect late Tuesday across Baltimore, the latest US city roiled by unrest stoked by anger over police treatment of blacks.
Nervous authorities imposed the emergency night-time curfew at 10:00 pm (0200 GMT Wednesday) in a bid to stave off another night of violence after rioters looted stores and attacked police on Monday.
But several hundred protesters initially refused to clear the tense streets -- according to TV estimates -- and a fire was set near a library.
A line of heavily equipped riot police moved on the crowd of mainly young, black men, who lobbed back whatever they could get their hands on.
Police responded with pepper pellets and fired smoke bombs, and appeared to have quickly successfully whittled down the crowd.
Armored police vehicles moved in to help enforce the curfew, which was to be lifted at 5:00 am and then re-imposed each night for a week. At least one person was arrested.
"The curfew violators are refusing to follow lawful orders by officers to leave the area. An emergency curfew is in effect," Baltimore police tweeted.
National Guard troops have deployed to back up police in the gritty port city of 620,000, where violence and looting erupted on Monday after the funeral of 25-year-old African-American man Freddie Gray, who died after suffering severe spinal injuries during an arrest.
Earlier in the day, President Barack Obama condemned Monday's rioting, but warned that incidents in recent months "raise troubling questions" about the policing of black communities in the United States.
Last year's fatal shooting of unarmed black teenager Michael Brown by a white police officer in Ferguson, Missouri triggered coast-to-coast protests.
"Since Ferguson... we have seen too many instances of what appears to be police officers interacting with individuals -- primarily African American, often poor -- in ways that raise troubling questions," the president said.
"I think there are police departments that have to do some soul-searching," added Obama, the first black president of the United States.
"I think there's some communities that have to do some soul-searching. I think we as a country have to do some soul-searching. This is not new. It's been going on for decades."
DISTRUST
In Baltimore, thousands of military and police reinforcements swarmed onto the streets after a night of unrest saw stores looted, more than 140 vehicles burned, 20 police wounded and more than 250 suspects arrested.
Maryland Governor Larry Hogan inspected a National Guard barricade and vowed to "make sure what happened last night in Baltimore City is not going to happen again."
"Tonight we will have 2,000 National Guardsmen and over one thousand law enforcement officers on duty," Hogan later told reporters.
The initial trigger for the violence came after a dignified service for Gray, who died a week after his spine was all but severed as he was detained by city police.
An investigation has been launched into the cause of his injuries, but many see the incident as only the latest example of police brutality against black suspects.
Six officers have been suspended.
Volunteer clean-up teams hit the streets Tuesday and residents spoke of their terror after gangs roamed the streets fighting police and destroying property.
"It was horrific to the point where my children were actually crying, trying to get back to the house, because there was so much going on," Latania Graham told AFP.
Many condemned the rioters, but also spoke of their distrust of police.
Department store clerk and Baltimore native Aretha Williams, 45, speaking in front of a line of mostly white police officers in riot gear, said: "I think that a lot of the police are racist... they get a license to kill by becoming a police officer."
A 68-year-old retiree who gave his name as Clarence said he hadn't seen Baltimore so tense since the riots of 1968, when six people were killed, 700 injured and much of the downtown area razed.
"The police brutality. That's sad. You have a man handcuffed. You don't beat him," he said. "You've got some good ones out there. But it seems like it's getting worse."