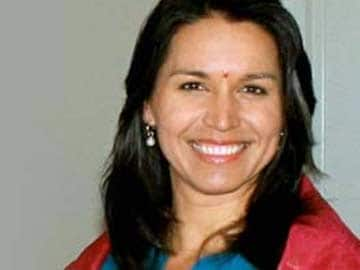 New Delhi/Washington:
Among the host of high profile personalities to meet Prime Minister Narendra Modi during his New York visit will be a US politician of especial interest - Tulsi Gabbard, the first Hindu American in the US Congress and a strong supporter of PM Modi.
Ms Gabbard, a 33-year-old US Democrat Congresswoman from Hawaii, is also an Iraq war veteran.
Ms Gabbard, the first practicing Hindu American in the Congress who took her oath on the Bhagwad Gita, had spoken to PM Modi after his victory in the general election and congratulated him and the Bharatiya Janata Party (BJP).
She has been involved in the planning of PM Modi's US visit and had last month met two BJP leaders -- Vijay Jolly and MP Rajyavardhan Rathore -- in that connection.
Ms Gabbard has always maintained that it was a "great blunder" by the US government to have denied a visa to Mr Modi in the wake of the 2002 Gujarat riots.
She is to attend the Sep 28 speech by Mr Modi at Madison Square Garden, New York, where he will address thousands of Indian Americans.
The event has been organised by the Indian American Community Foundation.
According to her website, "Tulsi was born in 1981 in Leloaloa, American Samoa, the fourth of five children born to Carol and State Senator Mike Gabbard."
Besides being the first member of the Hindu faith to be elected to the Congress, she is also one of just two female combat veterans ever to hold a seat.
She joined the Hawaii Army National Guard after college and was deployed to Iraq in 2004 and in Kuwait in 2009.
She was vocal in criticising the arrest of Indian diplomat Devyani Khobragade and said in a statement last December that she was "disappointed" when she found out about Ms Khobragade's initial treatment by law enforcement officials and added that while foreign diplomats must uphold US law they are also entitled to dignified treatment.
Ms Gabbard maintained that Ms Khobragade's arrest should not come at the expense of such a vital partnership between the two nations.
She has also been forceful in opposing a US House Resolution, 417, last year which condemned India's religious freedom record.
The resolution was widely condemned by the Indian and Hindu American communities as flawed and inaccurate.
Ms Gabbard criticised the resolution, saying the "417 weakens, rather than strengthens, the friendship between the United States and India. The resolution runs counter to all the hard work that the American people, particularly those in the Indian American community, have done to improve the relationship."
"Throughout history, India as a nation has been home to many religions, and has protected many as well, including Tibetan Buddhists, Jews, Christians, and Muslims," she had said in a statement.
After Mr Modi's victory in the April-May election, she issued a statement saying she looked forward to "working with Mr. Modi and other members of the Indian government toward our mutual goals of peace, stability, and economic growth in the Asia-Pacific region.
"A partnership between the world's two largest and greatest democracies is necessary for us to successfully address the many global challenges we face, including economic growth, bilateral trade, the environment, terrorism, and security."
Mr Modi will be in the US from Sep 26-30, during which he will be in New York till Sep 29 afternoon.