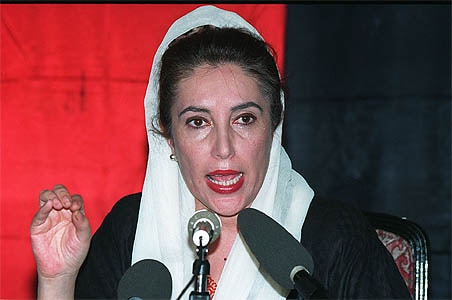 Highlights
Pervez Musharraf, charged with her murder in 2013, is in Dubai
The verdicts come nearly 10 years after Benazir Bhutto was killed
Court sentenced two former senior policemen to 17 years each
New Delhi:
An anti-terrorism court in Pakistan has declared former military ruler
Pervez Musharraf
a fugitive in ex-prime minister Benazir Bhutto's assassination trial, ordering his property confiscated, a court official said on Thursday. The court sentenced two former senior policemen to 17 years each in prison and acquitted five others in the case.
Pervez Musharraf, who was Pakistan's President when Ms Bhutto was assassinated, was charged with her murder in 2013, but has been in Dubai ever since a travel ban was lifted three years later. The court official said the former President he has "absconded".
As an absconder, Pervez Musharraf legally
must be arrested
and brought to trial if he returns to Pakistan.
Ms Bhutto, a two-time premier, was killed in a gun and bomb attack in Rawalpindi on December 27, 2007, when she came out of a park after addressing an election rally. A case was registered soon after the assassination and the trial went through many ups and down until it was concluded yesterday in Rawalpindi.
The court found Saud Aziz, who was the Rawalpindi police chief when Ms Bhutto was assassinated, and another former officer Kurrum Shehzad, guilty of "mishandling the crime scene." Apart from the 17-year prison sentence, each has been fined 500,000 Pakistani rupees.
Both were arrested soon after the assassination, but were released on bail in 2011.
The court acquitted five men who had been accused of being Taliban militants involved in the conspiracy to murder Ms Bhutto. Pervez Musharraf's government blamed the assassination on Pakistani Taliban chief Baitullah Mehsud, who denied any involvement. He was killed in a US drone attack in 2009.
The verdicts are the first to be issued in the case, and come nearly 10 years after Ms Bhutto was killed. In 2010, a UN report accused Pervez Musharraf's government of failing to give Ms Bhutto adequate protection and said her death could have been prevented.