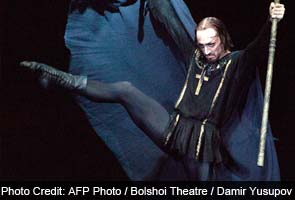 Moscow:
Prosecutors have yet to lay out a possible motive in the January attack on the Bolshoi Ballet's artistic director, Sergei Filin, but the revelations of the past few days suggest that it might boil down to a ballerina.
Anzhelina Vorontsova, a luminous blonde, was just 16 when she first caught the attention of sharp-eyed dance scouts, and some newspapers here have called her "the Voronezh miracle," after her industrial native city.
Filin, then leading Moscow's second-tier company, the Stanislavsky and Nemirovich-Danchenko Ballet, was so impressed that he moved Vorontsova and her mother to Moscow and enrolled the ballerina in a prestigious dance academy. It came as a blow the next year, 2009, when she abruptly jumped to the Bolshoi. Although Filin soon went to the Bolshoi himself, his relationship with Vorontsova never recovered, and her supporters said Filin had passed her over for key roles out of spite.
That painful episode has now found its way into the headlines. Vorontsova's boyfriend, Bolshoi soloist Pavel Dmitrichenko, 29, confessed Wednesday to hiring two men to carry out an attack on Filin, splashing his eyes and face with sulfuric acid, the police said.
Bleary-eyed but apparently calm, Dmitrichenko said on videotape that he "organized this attack, but not to the extent that it occurred," suggesting that his legal defense might seek to shift responsibility to his associates.
Dilyara Timergazina, Filin's assistant and adviser, said that the relationship between the two men had become tense in December over whether Vorontsova, now 21, would be allowed to dance the lead in "Swan Lake."
Timergazina said that Dmitrichenko had recently received two promotions - first to soloist and then to lead soloist - but was unsatisfied and approached Filin, insisting that he should dance the lead in "La Bayadere" and that Vorontsova should dance the difficult dual role of the good and evil swans, Odette and Odile, in "Swan Lake."
"When Filin said, 'No, I don't think so,' he said: 'I will show you. I will organize you a New Year's to remember,"' Timergazina said.
Starting in late December Filin's private email account was hacked, his cellphones were barraged with hang-up calls, and his car tires were slashed.
Neither Dmitrichenko nor his lawyer would comment on the developments Wednesday. Dmitrichenko and his two co-defendants - Andrei Lipatov and Yuri Zarutsky - are to be formally charged Thursday, probably with inflicting grave bodily harm, under a statute that could lead to two to eight years in prison for each man. Filin, 42, is recovering in a clinic in Germany. He has undergone repeated surgeries to restore burned corneas, and doctors expect him to regain most of his sight, at least in his left eye.
Many in ballet-obsessed Moscow spent Wednesday debating whether Dmitrichenko, who has danced at the Bolshoi since 2002, could have planned such an act. Born into a family of distinguished dancers, he styled himself as a nonconformist, dyed his hair platinum blond and had tattoos, including one that read, "Life is struggle - to struggle is to live." Dance experts noted that his career was on an upswing. Friends described him as volatile in joy or anger, but never calculating.
"Practically everything that Pavel did, he did spontaneously and quickly," a close friend told the newspaper Izvestiya, on condition of anonymity. "I cannot imagine that he was lurking, and considering, and nursing a plan of that atrocity."
His relationship with Vorontsova put him at the center of one of the theater's most high-profile conflicts. Nikolai Tsiskaridze, a principal Bolshoi dancer and Vorontsova's teacher, said that the two dancers had been a couple for about 15 months.
Vorontsova was greeted as a sensation when, at 16, she won her first major dance competition. Valeria Uralskaya, the editor of Ballet magazine in Russia, described her as "a luminous and delicate adolescent."
She said that Filin and his ballet company had taken pains to smooth the way for her to move from Voronezh to Moscow, where she finished her training, providing her with lodging, a stipend and a spot at the ballet academy, as well as finding a job for her mother.
In a 2010 interview Vorontsova acknowledged that Filin had assumed she would dance in his company and that her decision to move to the Bolshoi had been painful and difficult.
"Sometimes in life you have to make a choice," she said.
Uralskaya said that Vorontsova's career had leveled off in recent years, probably for several reasons, including injuries and post-adolescent weight gain.
"It's hard to say to what extent her tricky move played a role," Uralskaya said, referring to her jump to the Bolshoi. "Now she is not in the necessary technical and physical shape. There are ballerinas who are bigger stars. She's still a beginner. It's hard to separate emotional factors from objective ones here. They have coincided."
Vorontsova's supporters, however, say she is the victim of a grudge. A 2011 article in the newspaper Literaturnaya Gazeta took aim at Filin, arguing that "the fate of Anzhelina has become a critical moment for our ballet."
After she had fallen out with Filin, wrote the author, Yevgeny Malikov, "there appeared a clamorous group, saying Vorontsova is 'fat,' that she will 'break through the floor,' that she cannot take one step on the stage without falling."
Vadim Gayevsky, an eminent Russian ballet scholar, said the tension around Vorontsova is symptomatic of a broader problem, as artists barely out of their teens expect to shoot to the top of the profession. He said he felt sorry for Vorontsova because she was being pushed forward so aggressively by the people around her.
"Artists, even the most wonderful ones, must go through a rather long path unless they're totally brilliant," he said. "I don't know her desires. I don't know her. I know that her husband and teacher desire that she dance 'Swan Lake' at 20. Some can do it then, for others it's too soon."
"No one ever asks her," he said. "They decide everything for her."
There was a special charge in the air at Wednesday night's Bolshoi performance here, at which Vorontsova danced in Balanchine's "Jewels."
Nina D. Frogen, who attended the performance and stepped outside during intermission, said she had her doubts about Dmitrichenko's videotaped confession.
"Maybe he was forced to confess?" she said. "Maybe he was talked into it by someone? We don't know what to think anymore."
Yana Titova said she thought it was a case of inflated expectations. She said that Vorontsova was 10 pounds overweight for the top roles she sought.
"When she wasn't given the roles, what happened?" Titova said. "Of course she went and sobbed to her husband, she sobbed to her teacher."
This ended disastrously for Dmitrichenko, she said.
"For this stupidity his entire career, his whole life, is a disgrace," she said. "It's all gone."
(Andrew Roth contributed reporting.)
© 2013, The New York Times News Service