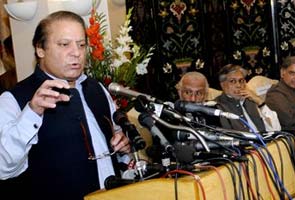 Islamabad:
Pakistan's largest opposition party ended its coalition with the party of President Asif Ali Zardari in the country's most populous province on Friday, dealing a blow to the national government.
Opposition leader Nawaz Sharif sharply criticized Zardari's record when announcing the split in the Punjab provincial assembly.
Sharif's Pakistan Muslim League-N is in the opposition at the federal level, but in control of the Punjab provincial government. It has been joined in a coalition in Punjab by Zardari's Pakistan People's Party, which is the ruling party on the federal level.
The Muslim League's move Friday leaves Zardari's party without a valuable source of patronage and power in Punjab, home to more than half of the country's 180 million people. Its ministers had been lobbying in recent days to try and keep the alliance intact.
It should have no immediate affect on governance at the federal level, where Zardari's party rules in a coalition with other parties. But it could signal the start of a more aggressive stance by Sharif, whose Pakistan's Muslim League-N is seen as the party most likely to win elections scheduled for 2013.
Asked whether he would like early elections as some in his party and the media are demanding, Sharif said such polls "were neither illegal or unconstitutional" but did not answer clearly.
Zardari's party won the most seats in the federal parliament in 2008 elections, but it has so far failed to make much headway in tackling the country's massive problems, including rampant Islamist militancy and a sick economy.
Raza Rabbani, a leading member of Zardari's party, promised it would be an "effective opposition" in Punjab, holding the government there accountable.
"I want to make it clear that there will be no political instability from today's act," Rabbani told a news conference. "The federal government is stable. There is no question of midterm elections."
Tensions between the two parties have spiked in recent weeks over the arrest of an American CIA contractor in the Punjab capital for shooting dead two Pakistanis there. Both have accused the other of mishandling the aftermath of the arrest, which is politically explosive in the country given U.S. demands he must be freed.
But many pundits say while Sharif is happy to see the Zardari government remain weak, ineffectual and unpopular, he does not necessarily want to take over immediately because that would also mean taking over the country's many problems.