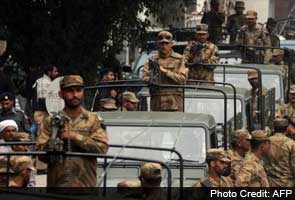 Islamabad:
The Pakistani Taliban has threatened widespread attacks, including suicide bombings, during the landmark general election tomorrow, saying it is opposed to the "infidel system" of democracy.
In a letter addressed to militant commanders, the Tehrik-e-Taliban chief Hakimullah Mehsud issued a directive to carry out widespread attacks across the country on May 11.
In the letter dated May 1, Mehsud told the commanders: "I will keep control of the attacks in Khyber-Pakhtunkhwa and Balochistan while you cover Sindh and Punjab."
"We don't accept the system of infidels which is called democracy," Mehsud wrote.
He urged the commanders to target election candidates, describing them as agents of an "infidel system."
"I am sending a list of attacks and the modus operandi, along with a separate list of fidayeen (suicide bombers)," wrote Mehsud.
The letter listed targets in Punjab and Sindh, The Express Tribune reported.
In an earlier letter sent to the media, Mehsud had said that his group was focused on wiping out democracy by hindering the polls.
The Tehrik-e-Taliban Pakistan repeatedly attacked the secular-leaning Pakistan People's Party, Awami National Party and Muttahida Qaumi Movement during the campaigning for the polls that will mark the first democratic transition in the country's history.
Over 100 people, including candidates of the ANP and MQM, were killed in attacks by the Taliban and other groups during the past four weeks.
However, the militants have not targeted the PML-N led by former premier Nawaz Sharif or Imran Khan's Pakistan Tehrik-e-Insaf, both of which have backed peace talks with the Taliban.
The army has deployed 70,000 soldiers to ensure security during the polls and tens of thousands of additional security personnel have been mobilised in the four provinces.
Some 300,000 security personnel have been deployed in the most populous province of Punjab while 124,000 security personnel have been deployed in Karachi, the country's largest city.
In North Waziristan, the 'shura' (council) of the pro-government Mullah Nazir group issued a letter directing all its members to maintain peace and to avoid siding with any candidate during the polls.
The letter said the group should struggle to ensure that polling is carried out in a smooth manner and that all candidates contesting a parliamentary seat in the region were "equal".
The group also framed 10 rules to maintain peace that should be followed by political workers and voters.
Follow NDTV for latest election news and live coverage of assembly elections 2019 in Maharashtra and Haryana.
Subscribe to our YouTube channel, like us on Facebook or follow us on Twitter and Instagram for latest news and live news updates.