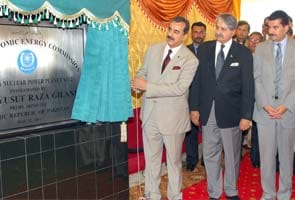 Islamabad:
Pakistan plans to build two coastal nuclear power plants with a capacity of 1,000 Megawatt each in the southern port city of Karachi to meet the future energy needs of the financial hub, according to a media report today.
"The presidency and General Headquarters are showing great interest in the projects which will have substantial allocations in the next budget," an unnamed Pakistan Atomic Energy Commission official was quoted as saying by <i>The News</i>.
The two new plants will be called the Chashma Nuclear Power Plant-1 and Chashma Nuclear Power Plant-2. These plants will generate 1,000 MW. Work on the third and fourth Chashma Nuclear Power Plants too is underway. CNPP-3 is scheduled to be operational by December 2016 and the fourth plant in 2017. Authorities are hoping to complete these two plants about eight months ahead of scheduled. Each plant will generate 325 MW of electricity.
Karachi currently has an ageing nuclear power plant that can generate 80 MW. The Chashma complex already has two functional nuclear power plants that generate 650 MW. Under the Energy Security Plan for 2005-2030, Pakistan plans to generate 8,800MW from nuclear power plants.
The military leadership has been briefed about the project and the presidency too is showing interest in the coastal nuclear power projects, the official said. "Due to this reason, we are seeking major allocations in the Public Sector Development Plan for 2012-13," the official said.
"Right now we are in the process of carrying out the seismic survey of the coastal area where the nuclear plants are expected to be installed," the official added.
Besides the new projects, authorities plan to build four more nuclear power plants on the Taunsa Punjnad canal, about 32 km from Muzzafargarh in Punjab province.
"Our objective is to increase the nuclear electricity share in the current electricity mix-up to six percent from the existing two percent," the PAEC official said. The PAEC has identified six sites for building nuclear power plants at Qadirabad Headworks, Dera Ghazi Khan canal near Taunsa Barrage, Taunsa-Punjnad canal near Multan, Nara canal near Sukkur, Pat Feeder canal near Guddu and Kabul river near Nowshera, the report said.
The PAEC will acquire 2,263 acres for four nuclear plants and 989 acres for a housing colony at Muzaffargarh at a cost of Rs 18 billion. Despite widespread criticism by the world community, Pakistan has stepped up civil nuclear cooperation with China, which has offered to supply several nuclear power plants.