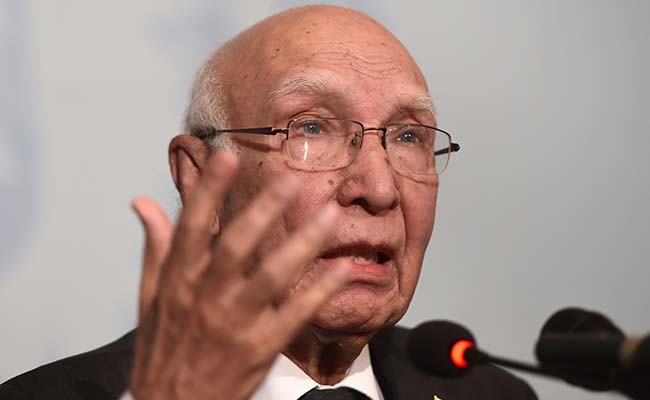 Islamabad:
Pakistan has some influence on the Taliban but it had no control over the terror group, Prime Minister Nawaz Sharif's foreign affairs advisor Sartaj Aziz said today, a media report said.
Mr Aziz said it was up to the Afghan government to resume talks with Taliban and that Pakistan's job was only to facilitate the talks, Radio Pakistan reported.
The advisor said both the US and Pakistan fully supported the Afghan reconciliation process, adding that it was up to the Afghan government to decide whether they wanted the same or not.
Mr Aziz maintained that the international community has concerns about the Afghan issue and no world power wants war in Afghanistan.
He said Pakistan and the US want resumption of talks between the Afghan government and the Taliban.
Pakistan's stance was clear that its soil would not be used against any country, Mr Aziz said.
Earlier in July, Pakistan brokered peace talks between the Afghan government and Taliban, the first round of which took place in Murree. But after the announced death of Taliban leader Mullah Omar, a second round of talks was postponed.
Ties between Islamabad and Kabul were generally improving until the recent attacks in Kabul adversely affected them.
President Ashraf Ghani accused Pakistan of failing to cleanse its soil of terrorist bases from where attacks were being launched continuously.
Afghan defence officials also accused Pakistan's intelligence service of playing a key role in the Taliban's seizure of Kunduz province.
Pakistan, however, denied the allegations, and condemned the attacks in Kabul and Kunduz in strong terms.