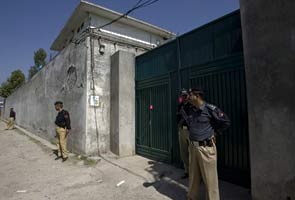 Islamabad:
Pakistan's media regulatory watchdog has barred live broadcast by major foreign television channels from the garrison city of Abbottabad where Osama bin Laden was killed by US forces on May 2.
The Pakistan Electronic Media Regulatory Authority said it had "stopped the foreign satellite TV channels from illegal uplinking of signals and live covering (of) news from Abbottabad".
US Special Forces killed bin Laden in a pre-dawn raid on a compound near the Pakistan Military Academy in the garrison city on May 2.
PEMRA's order affected several major foreign news channels, including CNN, BBC, Fox News, NBC News, Al-Jazeera, Voice of America and Sky News.
Foreign journalists poured into Abbottabad in the wake of bin Laden's killing amidst interest abroad at the al Qaeda chief's presence at a compound located a stone's throw from an elite military academy.
Authorities initially gave the media limited access to bin Laden's compound but it was later sealed by the police and the army. Foreign journalists were asked to leave Abbottabad yesterday.
PEMRA's decision to clamp down on broadcasts by foreign channels is being linked by observers to the Pakistani government and military's unease over coverage of perceived failures of security agencies in detecting bin Laden's presence in a city located 120 km from Islamabad.
The foreign channels had been issued show cause notices and asked to stop their "illegal activity immediately", said a statement issued by PEMRA.
"PEMRA, being a regulator, is steadfast in discharging its regulatory responsibility and ensuring level playing field for all stakeholders," the statement said.
Representatives of some foreign news channels told the media that they were not airing news live from Abbottabad.
Representatives of the foreign media also fanned out to Haripur near Abbottabad yesterday following news reports that bin Laden's Yemeni widow had told investigators that the al Qaeda chief lived in a village near Haripur before moving to Abbottabad.
Get Breaking news, live coverage, and Latest News from India and around the world on NDTV.com. Catch all the Live TV action on NDTV 24x7 and NDTV India. Like us on Facebook or follow us on Twitter and Instagram for latest news and live news updates.