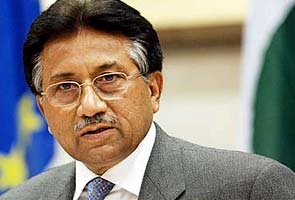 Islamabad:
Pakistani authorities today directed officials at airports across the country to bar former President Pervez Musharraf from going abroad.
The Federal Investigation Agency (FIA) directed immigration officials at all international airports to stop Mr Musharraf from travelling abroad, TV news channels reported.
The FIA formally issued written orders to immigration officials in this regard.
The move came a day after the Sindh High Court issued orders that Musharraf cannot leave Pakistan without seeking the permission of courts that are hearing cases against him.
The High Court yesterday issued the directive while extending by 21 days the pre-arrest bail granted to 69-year-old Musharraf, in connection with several cases.
The former army chief, who ended nearly four years of self-exile by returning to Pakistan on March 24, was declared a fugitive by an anti-terrorism court in connection with the assassination of former premier Benazir Bhutto.
Mr Musharraf has been accused of failing to provide adequate protection to Benazir Bhutto, who was killed by a suicide bomber in 2007.
Mr Musharraf has also been named as an accused in connection with the killing of Baloch nationalist leader Akbar Bugti in a 2006 military operation.
Some reports said Mr Musharraf's name had been included in the Exit Control List, a list of people barred from travelling out of Pakistan though this could not be independently confirmed.
Mr Musharraf plans to lead his All Pakistan Muslim League party in the upcoming general election.
He has filed his nomination papers for three parliamentary constituencies in Karachi, Chitral and
Islamabad.
In a separate development, senior PML-N leader Ahsan Iqbal today described Mr Musharraf as a "national criminal" and called on courts to hold the former dictator accountable for his crimes.
Mr Iqbal told reporters in Lahore that the list of Mr Musharraf's crimes was a long one.
"He left no stone unturned in destroying the peace and integrity of Pakistan," Mr Iqbal said.
He accused Mr Musharraf of being responsible for the problems being faced by Pakistan today, including an acute energy crisis.
Mr Musharraf came to power in 1999 by ousting a PML-N government in a bloodless coup.