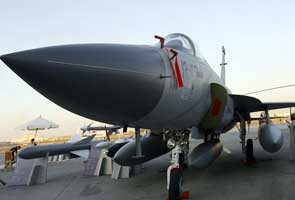 Dubai:
JF-17 Thunder (Joint Fighter-17) combat aircraft, jointly produced by China and Pakistan made its Middle East flight debut at the Dubai Airshow 2011, Sunday. The jet is being offered at aggressive discounts to compete with Western rivals, with three JF-17s being offered at the price of one F-16.
With coordination between Aviation Industry Corporation of China and Pakistan Air Force, three JF-17 Thunders were exhibited at Dubai International Airshow. One performed on Sunday while the others were used for static display and weapon display.
The aircraft, also designated as FC-17 Xiaolong (Fighter China-17 Fierce Dragon), is a light-weight multi-role combat aircraft and has remarkable combat ability in low distance interception and close attack.
"I think is an excellent aircraft with excellent handling qualities. It is very easy for the pilot to manage this aircraft in combat, because of its displays and controls, and its interface with the pilot which is very modern and latest in the world," said Ahsan Rafiq, Pakistan Air Force pilot.
"I think it was a great play and I want to really see it again tomorrow and I will watch it very carefully," said George Elkins, CEO of Sigma Aerospace Metals, LLC.
Aside from JF 17 Thunder, the latest turboprop regional aircraft MA600 produced by Aviation Industry Corporation of China is also on display at the international airshow.
As the leading aviation event in the Middle East, the biannual Dubai airshow will end Thursday. More than 1,000 aviation enterprises from over 50 countries and regions attended this year's airshow.
Meanwhile, organizer stated on the opening day that orders worth over 26 billion U.S. dollars were contracted. Dubai's state-owned carrier Emirates Airline placed an order for 50 Boeing 777-ER long-range planes worth 18 billion U.S. dollars, on Sunday, the largest dollar-value order in the Chicago plane producer's history.