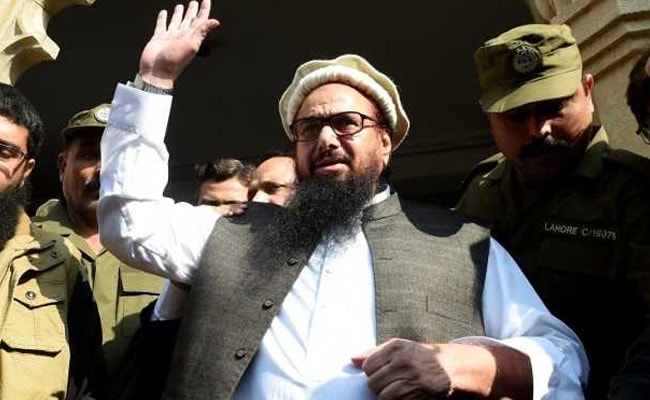 Lahore:
A Pakistani court today allowed
Mumbai attack mastermind
Hafiz Saeed's two organisations Jamaat-ud-Dawah (JuD) and Falah-i-Insaniyat Foundation (FIF) to work under the ambit of law but did not set aside the government's ban on their 'social welfare activities'.
Justice Ameenuddin Khan of the Lahore High Court issued a notice to the interior ministry to file its reply on April 23 on the petition of Hafiz Saeed challenging a government's notification to ban social welfare activities of his JuD and FIF and freezing of their accounts.
"The LHC today allowed Saeed's JuD and FIF to work under the ambit of law but did not lift the government's ban on their social welfare activities," a court official told PTI after the hearing.
"The two organisations will have to work according to the law after imposition of ban on them by the government," he said, adding the court would hold next hearing on April 23.
Hafiz Saeed's counsel Advocate AK Dogar requested the court for a full bench hearing since this case is of "sensitive nature".
Justice Khan responded that the decision to constitute a full bench will be made in the next hearing.
AK Dogar told the court that the interior ministry on February 10 issued a notification with regard to freezing bank accounts and taking over assets associated with JuD and FIF under the Anti-Terrorism (amendment) Ordinance 2018.
"The government of Pakistan acted under the pressure of foreign powers including United Nations and India. Pakistan is a sovereign independent state and makes its own laws to govern its citizens. If there is a conflict between the laws of the land and any provision of United Nations Security Council Act, 1948, the law of the land shall prevail," he said.
AK Dogar argued the FIF owns 369 ambulances, helped 72,000 persons to charity hospitals and treated 600,000 patients only in 2017. "JuD dug out 2000 wells for supplying water in Tharparkar, Baluchistan and Balochistan," he said.
The petitioner pleaded the court to declare the impugned notification of the interior ministry null and void with regard to taking over the assets of the two organisations.
Separately, Hafiz Saeed had challenged the presidential ordinance under which his group has been banned for being on the watch-list of the UN in the Islamabad High Court.
In February, President Mamnoon Hussain promulgated an ordinance amending the Anti-Terrorism Act, 1997 with regards to proscription of terrorist individuals and organisations to include entities listed by the UN Security Council in a move to declare Hafiz Saeed-linked JuD and FIF as proscribed groups.
The JuD is believed to be the front organisation for the LeT which is responsible for carrying out the Mumbai attack that killed 166 people. It has been
declared as a foreign terrorist
organisation by the US in June 2014.