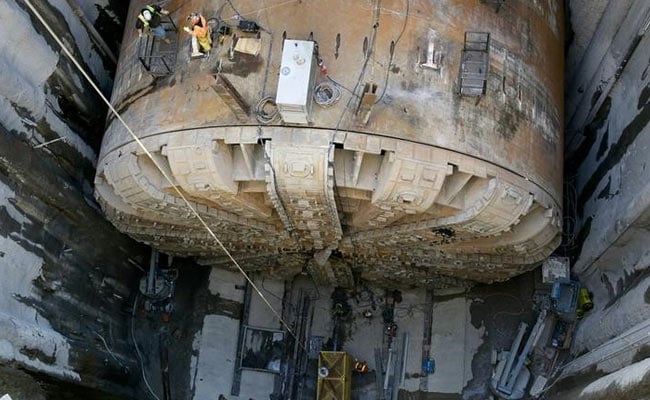 Seattle:
Bertha, one of the world's largest tunnel boring machines, emerged north of downtown Seattle on Tuesday shrouded in clouds of dust and chunks of falling concrete, completing the most difficult phase of a plan to build a highway under the heart of the city.
The breakthrough of the cylindrical drilling machine marks a major step in one of the most ambitious American municipal projects in recent years. Once complete, 2 miles (3 km) of Highway 99, an elevated roadway along a densely populated waterfront, will be rerouted to run beneath the city of 650,000 people.
A sinkhole, a two-year delay and a $480 million claim by contractors have challenged the $3.1 billion project since it began in June 2013.
The underground highway, which had initially been slated to cost $2 billion and be completed by the end of 2015, has been widely compared with Boston's 16-year "Big Dig" tunnelling project, which suffered through cost overruns, design flaws, worker fatalities and other problems.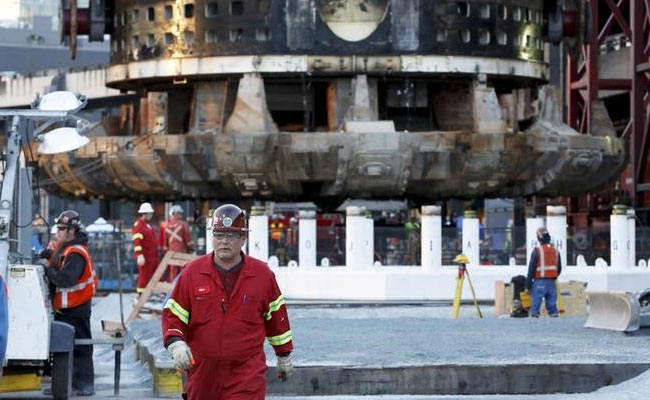 "This is a historic moment in our state's transportation history," Washington state Governor Jay Inslee said in a statement after the drill's breakthrough. "There is still more work ahead but this moment is one worth celebrating."
After emerging into a large open-air pit a few blocks from Seattle's Queen Anne neighbourhood, Bertha will be cut into pieces and hauled away over several months.
The 57-foot (17 m) wide borer made by Japan's Hitachi Zosen Corp. cost $80 million and was the largest in the world when tunnelling started in 2013.
As engineers make plans to break down the 6,700-ton (6,100-metric ton) machine, work to fill the tunnel with a double-decker roadway has already begun. State planners hope to have the first car travel through the tunnel in early 2019.
While the project's $3.1 billion price tag is comparatively small - the Big Dig cost an estimated $22 billion - progress was complicated by plans to dig beneath some of the most tightly packed neighbourhoods in downtown Seattle.
Bertha overheated and stalled partway through the project in December 2013, putting completion into doubt. Tunnelling was delayed two years as engineers dug a 120-foot (37 m) access pit to make repairs.
© Thomson Reuters 2017
(Except for the headline, this story has not been edited by NDTV staff and is published from a syndicated feed.)