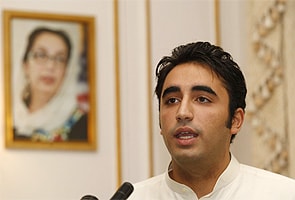 Islamabad/ New Delhi:
24-year-old Bilawal Bhutto Zardari, who shares the post of Chairman of the Pakistan People's Party with his father, has chosen his mother's fifth death anniversary to make a formal debut in politics. This means that he will be handed charge of his party's campaign for next year's general elections; he cannot contest elections till he is 25.
General Elections are due in Pakistan anytime after March next year when the current National Assembly or lower house of parliament will complete its five-year term. The ruling PPP has indicated that elections are likely to be held in April or May next year. Mr Zardari will turn 25 only in September, 2013.
It is only a matter of time, however. Bilawal Zardari is to the manor born. His mother, Benazir Bhutto, was a former Prime Minister of Pakistan and was killed while attempting a comeback. She was assassinated by a suicide bomber after an election rally in Rawalpindi on December 27, 2007. His father, Asif Ali Zardari, is Pakistan's President.
The formal entry into active politics is expected at a meeting to be held at Garhi Khuda Bux (in Sindh). He will "take over the PPP's campaign for next year's general election," said a confidant of President Zardari.
During a speech he will make today, Mr Bilawal is also expected to make public, a report on the investigation into Benazir Bhutto's assassination.
President Zardari too will make a speech at the event, to be held outside the Bhutto family's mausoleum near the PPP's stronghold of Naudero.
There has been much speculation that the President might announce the date for the next general elections at Thursday's event. However, his confidant said no final decision had been made on this. "The President is keeping things close to his chest and he is the person who will make the decision about announcing the date for the polls," he said.
Polls will be held simultaneously for the National Assembly and to the four provincial assemblies.

(With PTI inputs)