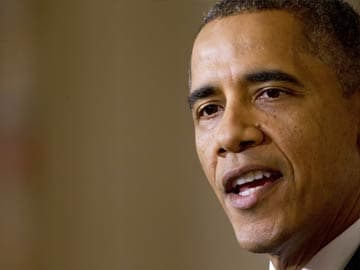 President Barack Obama warned Tuesday a narrow two to three month window remained to pass immigration reform before mid-term elections, seeking to keep alive perhaps his last hope for a major second term domestic achievement.
Obama told police chiefs and top law enforcement officers that bitter party politics ahead of November's polls would threaten hopes of moving a reform bill, currently stalled in the US House of Representatives.
"We have got this narrow window -- the closer to the mid-term elections, the harder it is," Obama said.
"It is hard to believe that this place (Washington) could get a little more dysfunctional," he quipped.
"It is very hard right before an election, we have got a window of two, three months to get the ball rolling in the House of Representatives," Obama said.
The Democratic-led Senate passed an immigration reform bill last year.
But the bill has ground to a halt in the Republican House, with conservatives arguing that they cannot trust Obama to enforce laws on border enforcement to crack down on illegal immigration.
Conservatives in the restive Republican caucus are also loath to pass a bill many see as offering amnesty to around 11 million illegal immigrants.
And Republican party chiefs want to keep the focus on Obama's health care law -- a key motivator for the party's base voters.
Obama did give Republican House Speaker John Boehner credit for backing the idea of immigration reform.
But he lashed out at a "handful of House Republicans" he said were blocking legislation getting to the floor.
The Senate bill includes a path to eventual citizenship for 11 million illegal immigrants, includes tighter border monitoring, an overhauled work visa program and other key reforms.
Boehner has said the House will not take up the Senate bill but will deliver its own product.
His spokesman, Michael Steel said Tuesday that it would be "impossible to make progress until the American people - and their elected representatives -- have faith that the President himself will actually enforce the law as written."
Even if the House did pass its own immigration bill, its prospects of winning Senate agreement are uncertain with some lawmakers wary of tough votes before an election in which Republicans are hoping to win control of the Senate.
Long-term, Republican leaders warn that the party cannot afford to alienate Hispanic voters -- an increasingly important demographic bloc in national elections for which immigration reform is an article of faith.
Even if there is little prospect of immigration reform passing before the election, it does Obama no harm to keep the effort in the headlines as it is a key motivator for Hispanic voters, who tend to favor Democrats.