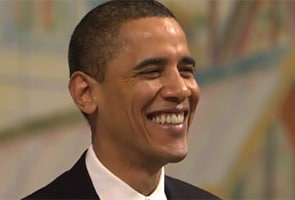 New York:
President Obama will make the fusion of politics and comedy official by becoming the first sitting president to appear on Comedy Central's "Daily Show" just days before crucial midterm elections that could reshape his presidency.
Mr Obama will sit down with Jon Stewart, the comedian-turned-activist who hosts the show, in what White House officials concede is a blatant attempt to seek out young Democratic voters wherever they spend the most time.
"The President hasn't been shy about going to the places where people are getting their information and trying to make his case," White House press secretary Robert Gibbs told reporters Tuesday. "And I think that's what he'll do on the show."
The unusual presidential interview will be taped at the Harman Center for the Arts in Washington, where Mr. Stewart has relocated his show in advance of the "Rally to Restore Sanity" he is leading on Saturday. The interview comes as literally hundreds of candidates and their allies begin the final push for votes ahead of what is widely expected to be a better day for Republicans than for Democrats next week.
But a fresh wave of polling in a few states is pointing to some improving news for some Democrats. The party's candidates for Senate and governor in California appear to be holding onto leads over their Republican rivals and the candidates running for Senate in Pennsylvania are tied in the latest survey from that state.
The AFL-CIO on Saturday will launch a "Final Four Days" of get-out-the-vote efforts involving 90,000 volunteers in 1,200 staging locations, officials told The Caucus. A Democratic official in Washington bragged about early voting Tuesday night, telling The Caucus that more than 28 competitive House district have seen big turnouts of Democrats even before election day.
But the political director for the Republican National Committee said in a final pre-election memo that the group's 360 "Victory" offices have mailed 6.7 million brochures urging early voting in states where it is allowed.
"Democrat claims of a stronger ground game are contradicted by the data and appear to be a brazen attempt to motivate a depressed base," said Gentry Collins, the RNC political director, in the memo.
With less than a week to go, most of the candidates and outside groups have stopped creating new television ads to replace the ones already crowding the airwaves. But in at least a few states, the creative juices are still flowing; Carly Fiorina, the Republican Senate candidate in California, released a new Internet video slamming Barbara Boxer, her Democratic opponent, for ties to a Silicon Valley company that outsources jobs.
The Democratic Congressional Campaign Committee late on Tuesday reported a last, big investment of money in highly competitive campaigns. For example, the committee spent $1 million on behalf of Gerry Connolly, Democrat of Virginia, who had long been considered a safe seat.
The California Senate race took an odd, and sad, turn late Tuesday with word that Ms. Fiorina had checked into a hospital for treatment of an infection from surgery she had in July to treat breast cancer. Aides told the Los Angeles Times that she would stay overnight but hoped to get back on the trail by week's end.
And in Kentucky, Senate candidate Rand Paul is continuing to deal with fallout from video of a supporter who stomped on the head of a liberal activist during a skirmish outside of the last debate this week. The supporter told the Associated Press he had apologized, and Mr Paul's campaign issued a statement saying it had "disassociated itself" with the individual.
Before sitting down with Mr Stewart, Mr Obama will conduct an interview with Michael Smerconish, the conservative radio host from Philadelphia who broke with Republicans in 2008 to endorse Mr Obama. In a statement, Mr Smerconish promised to be "direct in my questioning" but said Mr Obama "can also expect to be treated with dignity and respect."
Later in the afternoon, Mr Obama will sit with Mr Stewart before a live, studio audience for a taping. The show is scheduled to be broadcast at 11 pm eastern time. Mr Obama has appeared with Mr Stewart on the show before, but never since he occupied the Oval Office.
Mr Gibbs said that the president will not attend Mr Stewart's rally, which was organized as an effort to counter the conservative rallies - including one led by Fox News host Glenn Beck - that have been held in Washington during the election season.
"Jon Stewart announced a long, long time ago that he would be in Washington before the existence of the rally," Mr Gibbs said. "That's when we -- we signed up to do the show many months ago, I think long before the existence of the rally."
Some Democratic supporters have openly worried that Mr Stewart's rally will siphon away highly energized Democratic activists who should be deployed to close election contests. But Mr Gibbs said the administration is not concerned about mixing politics and entertainment.
"No I mean, look, we've had entertainers join things like Rock the Vote to help register people to vote and help get people involved," Mr Gibbs said. "Efforts that help get people involved in and excited in participating in that democracy on either side is a good thing.