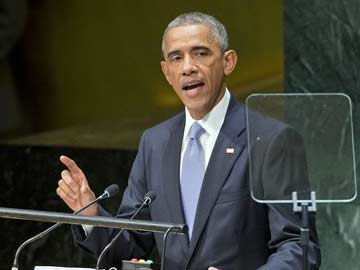 United Nations:
US President Barack Obama denounced Russian aggression in Europe at the United Nations on Wednesday, but proferred a hand to Moscow by offering to lift sanctions if Russia changes course.
"Russian aggression in Europe recalls the days when large nations trampled small ones in pursuit of territorial ambition," Obama told the General Assembly with Russian Foreign Minister Sergei Lavrov in the audience.
"Russia's actions in Ukraine challenge this post-war order," said Obama, denouncing Crimea's annexation by Moscow and Russian support for armed separatists in Ukraine.
"We will impose a cost on Russia for aggression," he said. But the US president said a recent ceasefire agreement in Ukraine offers an opening towards diplomacy and peace.
"If Russia takes that path -- a path that for stretches of the post-Cold War period resulted in prosperity for the Russian people -- then we will lift our sanctions and welcome Russia's role in addressing common challenges."
He said Russia and the United States had cooperated in the past, from reducing nuclear stockpiles to removing and destroying Syria's declared chemical weapons.
"And that's the kind of cooperation we are prepared to pursue again -- if Russia changes course," Obama said.
UN Secretary General Ban Ki-moon alluded in his own speech to East-West tensions over Ukraine, saying that "Cold War ghosts have returned to haunt our times."