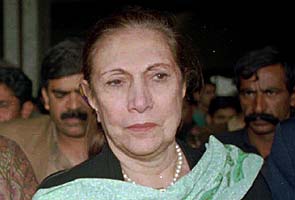 Islamabad:
Former Pakistani First Lady Nusrat Bhutto, the widow of late President Zulfikar Ali Bhutto and the mother of slain former premier Benazir Bhutto, died in Dubai on Sunday, following a prolonged illness at the age of 82.
Begum Nusrat had been living in Dubai since the time Benazir Bhutto went into self-exile in the late 1990s.
She was suffering from cancer and Alzheimer's disease and was largely incapacitated.
The daughter of a wealthy Iranian businessman, Nusrat was born in Esfahan on March 23, 1929. Her family later moved to the Pakistani port city of Karachi.
She married Zulfikar Ali Bhutto in 1951, becoming his second wife.
After Zulfikar Ali Bhutto was executed during the regime of military ruler Zia-ul-Haq in 1979, Nusrat became the leader of the Pakistan Peoples Party and played a role in grooming Benazir for taking over the party.
Though she left Pakistan in 1982 to seek treatment for cancer in Britain, she subsequently returned to the country and was elected to the parliament from Larkana, the Bhutto family's stronghold in Sindh province.
She served as a federal minister in the governments headed by her daughter Benazir.
PPP leaders said Nusrat was affected by the deaths of her two sons, Shahnawaz and Mir Murtaza.
Shahnawaz died in mysterious circumstances in France in 1985 while Murtaza was gunned down outside the family home in Karachi in 1996.
At the time, Nusrat had supported Murtaza over Benazir to lead the PPP.
Nusrat was rarely seen in public over the past few years, including after Benazir's return to Pakistan from self-exile in late 2007.
Following Benazir's assassination the same year, her widower President Asif Ali Zardari visited Nusrat in Dubai several times.
The late leader will be buried in the Bhuttos' ancestral graveyard at Garhi Khuda Baksh with the "deep scars on her body and soul of the relentless fight against military dictatorship", presidential spokesman Farhatullah Babar said.
Nusrat's only surviving child, Sanam Bhutto, and grandchildren Bilawal, Bakhtawar and Aseefa, currently in Britain, are expected to arrive in Dubai to accompany her body on its journey to its resting place.
President Asif Ali Zardari is already in Dubai, Babar said.
"In her tragic and eventful life, she witnessed and endured the assassination of her husband and three children but refused to compromise with dictatorship," Babar said.
The PPP-led federal government announced a nationwide holiday tomorrow and a 10-day period of official mourning.
The PPP suspended all political activities and announced a 40-day period of mourning.
Prime Minister Yousuf Raza Gilani said Begum Nusrat's contribution to democracy, restoration of the constitution and rights of the people will be remembered for a long time.
He described her death as an irreparable loss for the PPP.
Cricketer-turned-politician Imran Khan and Senate chairman Farooq H Naek were among the leaders who condoled Begum Nusrat's death.