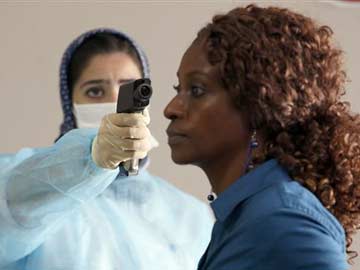 Saint-Mande, France:
A nurse who treated France's first Ebola patient was taken to a military hospital near Paris on Thursday with a "suspect fever", a source close to the case said.
The nurse was driven to the Begin hospital in Saint-Mande early afternoon as she suffered from a high, long-lasting fever, said the source, who wished to remain anonymous.
According to several sources who declined to reveal their names, she was part of a team at the same hospital that treated a French nurse who contracted the deadly Ebola virus in Liberia when working for Doctors Without Borders (MSF).
That MSF volunteer was flown back to France last month, and has since recovered.
As concern over the suspect case gathered pace Thursday, Health Minister Marisol Touraine took to the air waves in a bid to calm frayed nerves.
She refused to comment on the suspect case -- of which there have been several over the past week, all false alarms.
"I have said very clearly that if there was a case of Ebola on French territory, I would inform the population immediately," she told RTL radio.
Touraine added she did not want to feed into general anxiety over the disease, which emerged in west Africa earlier this year and has already killed nearly 4,500 people -- most of them in Liberia, Guinea and Sierra Leone.
Cases of Ebola have also started to emerge in countries further afield.
In the United States, two hospital workers in Texas have tested positive for the disease after treating Liberian patient Thomas Eric Duncan, who died in Dallas on October 8.
A Spanish nurse was also infected with the deadly virus after treating an elderly missionary who contracted Ebola in Sierra Leone and died on September 25.
Ebola is transmitted by contact with the bodily fluids of an infected person who has fever, diarrhoea or vomiting.
Countries around the world have stepped up health checks as a result.
France announced Thursday that medics at Paris's main Charles de Gaulle airport would take the temperature of passengers arriving from the daily flight still operating from the Guinean capital Conakry.
France and the Red Cross will also be helping Guinea to step up existing checks on passengers boarding flights in Conakry.