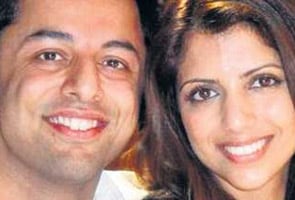 Shrien Dewani, a businessman from the UK, accused of commissioning his wife's murder while on their honeymoon in South Africa, will not be extradited for now. The British High Court today halted on his extradition on mental health grounds but said it was in the interests of justice that he should be extradited "as soon as he is fit" to be tried.
Here are the ten big facts on the case:
1)
Mr Dewani's extradition was stopped by a court that accepted that he is suffering from post-traumatic stress disorder. His lawyers had said his health and life would be at danger if he is sent to South Africa in his current condition.
2)
In a statement, Mr Dewani's family welcomed the ruling and said: "Shrien can only return to South Africa when he is well enough and when his personal safety can be guaranteed."
3)
Mr Dewani has always denied any role in the murder of his wife, Anni, who was shot dead in Cape Town in 2010 on the second night of their honeymoon. The couple had met through their families.
4)
South African authorities say they have pursued Mr Dewani's extradition not because his guilt is presumed, but because authorities believed that "he has a case to answer to."
5)
Anni Dewani was with her husband when a taxi they were travelling in was hijacked on the outskirts of Cape Town. She was found dead in the back of the abandoned vehicle with a bullet wound to her neck. Taxi driver Zola Tongo and Mr Dewani were ejected by the hijackers before Mrs Dewani was driven away and shot.
6)
The cab driver alleges that he was offered more than a 1000 pounds by Mr Dewani to kill his wife. He has admitted to staging the hijacking of his car. He is serving 18 years in prison.
7)
Two alleged hitmen who he worked with have also been arrested.
8)
In September last year, the Home Secretary of UK sanctioned Mr Dewani's extradition. He then filed an appeal in the High Court against that order.
9)
Texts from Anni to her family and friends calling her husband a "monster", his refusal to have sex with her or that she threatened divorce also have the South African police probing Shrien's purported homosexuality.
10)
New CCTV footage has raised doubts over the claims made by investigators against Mr Dewani's role in the murder of his wife. The new footage shows Shrien and Anni Dewani kissing hours before her murder. Details of the new evidence were telecast on BBC's Panorama on Wednesday.